Project Spectrum Update
"Je vais essayer de faire ce blog en anglais ainsi qu'en français. Je m'excuse d'avance si mon français n'est pas au top - laisse-moi un p'tit mot dans 'comments' pour me corriger. Merci, bonne lecture et surtout bon knitting !"
In which I aimed to create something of the appropriate colour in each month.
Pour ce projet le but est les créations du couleur du mois.

March was designated Reds and Pinks. I joined near the end of the month but did make a Scribble Lace scarf (see Debbie New's book,
Unexpected Knitting
) with Colinette Point 5 in Magenta and black cotton thread. This is basically just garter stitch with one row in chunky yarn followed by 3 in thread (a circular needle is a must). A bit tricky at first but my sort of project since no swatching was required - I could just jump in the deep end. Sorry the photo seems odd, it looks more like a shrub with red flowers, perhaps it's the vivid colour...
En Mars les couleurs ont été Rouge et Rose. Bien que je devienne membre du Projet au fin du mois j'ai fait une écharpe de 'Scribble Lace' (dentelle gribouillage?) (regarde le livre de Debbie New – Unexpected Knitting) avec le laine 'Colinette Point 5' (couleur Magenta) et le fil à coudre noir. J'ai utilisé le point mousse et j'ai tricoté un rang avec le gros laine suivi de trois rangs avec le fil à coudre (un aiguille circulaire est obligitoire). Au debut je l'ai trouvé difficile mais ce le truc pour moi parce qu'il ne faut pas que je fasse un echantillon – je peux prendre le taureau par les cornes. L'image est bizarre, l'écharpe ressemble un buisson rouge, peutêtre le couleur est trop vif.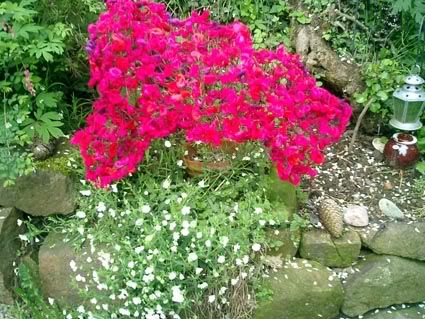 April was Oranges and Yellows (not high on my list of colour choices) and since I was in the UK at the beginning of the month apparently catching all the germs and virus' going I put things of until the last day. (You may detect a couple of themes emerging). So on 30th April I decided to dye some fibre to spin. In my stash I found some Teeswater tops, some of the mohair from the goats last year and some already prepared 'tincture of onion skin'. i.e. last year I had a load of onion skins from my friends, Rachel and Grègoire, who run the local restaurant
Papillon
(highly recommended) which I boiled up and drained off and then... left (could this be another theme?) Anyway the result looked less than promising, a kind of muddy brown in the pot as Marge and Painter (the 2 black girls investigating) can attest to.
En Avril les couleurs ont été Orange et Jaune (pas mes preferés). Au debut du mois j'étais en Angleterre et j'étais malade pour le plupart du mois. Donc, comme d'habitude, j'ai laissé tout jusqu'au dernier jour. 30ème avril j'ai teinte des fibres pour filer. Dans ma cachette j'ai trouvé des fibres "Teeswater" et un peu de mohair des chevre angora qui j'ai coupé l'année dernière, aussi la tisane de peau d'oignion . Mes amis, Rachel et Grègoire, qui dirigent le restaurant merveilleux, Papillon près d'ici (je recommande extrêmement) m'ont donné des peaus d'oignion. Toutefois quand j'ai fait brouiller le tout ensemble ça ressemblait la boue. Mes chattes noires, Marge et Painter ont été témoins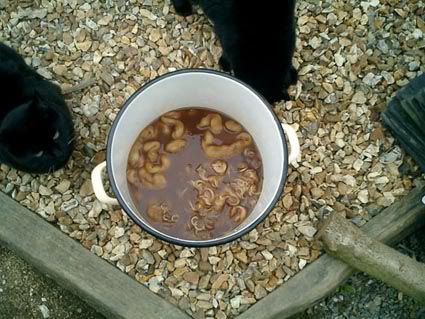 However, when washed and dried the result was stunning, the mohair a lovely golden colour and the Teeswater a beatiful saffron. Now I just need to spin it...
Mais, quand les fibres étaient lavés le couleur était sensationnel. Le mohair était comme d'or et le Teeswater comme safran. Maintenant je dois le filer…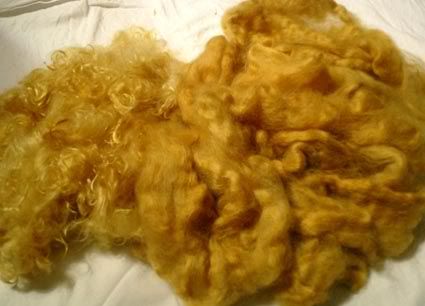 Also in April I was part of the Project Spectrum postcard swap and by the skin of my teeth I managed to send my colour themed postcard off to my assigned partner Liz at
http://likeacrazedweasel.blogspot.com/
. Luckily she was very forgiving as she seemed to have some of the same characteristics as me and our cards arrived around the same time. Here is hers.
Aussi, en Avril j'ai fait partie du "Project Spectrum Postcard Swap" (échange de carte postale) Juste à temps j'ai envoyé ma carte postale de couleur à theme à ma copaine assignée, Liz http://likeacrazedweasel.blogspot.com/. Par un coup de chance elle était le même que moi et sa carte postale a arrive à le même temps. Voilà.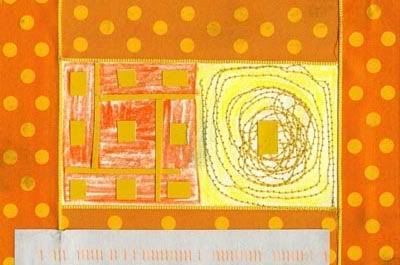 Well what will May bring? May is for Greens. I have dyed some Portland Fleece that was lying around which looks less green in the photo than in reality. Will I get round to spinning it?
Et Mai? Le couleur est vert. J'ai teinte des fibres de les moutons "Portland" de ma cachette. L'image n'est pas vrai, en réalité c'est plus vert. Est-ce que je le filerai?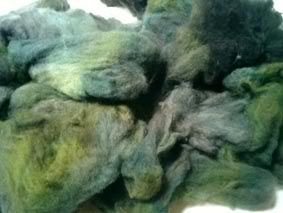 I have a single skein of this rather yummy but unnamed colourway in Colinette Skye. I wonder if this is enough for a small felted bag? Skye felts beautifully and I have an idea for a bag knitted in the domino style. I bought the Vivian Hoxbro book
Domino Knitting
after
Yvonne
showed me the technique at the 'Knit and Relax' area of a craft show in Olympia recently. Thanks Yvonne!
J'ai un seul echeveau de "Colinette Skye". Le couleur est sans nom mais je l'aime – miam, miam. Je me demande si j'ai assez pour un petit sac feutre? Le laine 'Skye' fait le bon feutre et j'ai un idée pour un sac tricoté à la domino (après le livre Domino Knitting de Vivian Hoxbro). Merci, Yvonne, qui m'expliqué dernièrement à un exposition à Londres.
There will be more green dying as well as I also joined the Project Spectrum dyed sock yarn swap. So watch this space.
Aussi, j'ai fait partie du "Project Spectrum dyed sock wool yarn swap" (échange du laineà chausette teinté). Donc, lis ce blog d'affichage pour plus de details.