Peutêtre and Maybe
These are our 2 angora goats. When we first got them we happened to be playing Janis Joplin and they got named after one of the tracks (Peutêtre is Maybe in French, she is the smaller one). They are sisters.
Il y a nos chèvres angoras. Quand elles arrivent nous entendions la chanson "Maybe" de Janis Joplin. Donc, la grande s'appelle Maybe et la petite s'appelle Peutêtre. Elles sont soeurs.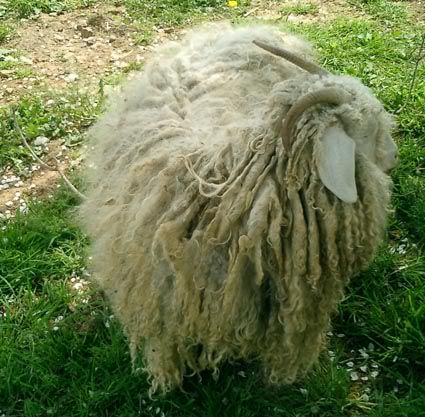 As you see they are badly in need of a haircut. My partner, Keith has managed to clip most of Peutêtre, she is left with a sort of lions mane, it took 3 hours. The other day I spent 4 hours trying to clip Maybe and although I got quite a bit off it hardly shows as it is all underneath (apart from round her face). The next day I had bruises everywhere and ached in every joint. Since then it has been raining on and off so they are a job waiting to be done.
Tu peux voir que je dois couper ses poils. Mon copain, Keith, a pu couper le poil de Peutêtre pour le plupart mais il a mis trois heures pour le faire et elle est laissé avec une crinière comme un lion. Tu ne peux pas voir que j'ai coupé Maybe mais j'ai mis quatre heures pour le faire. Elle bougeait beaucoup et elle m'a donné des coups de pieds et elle m'a mordu! Le lendemain j'avais les bleus et les douleurs articulaires. Le reste attend.