Late as usual SP11 Questionnaire
What a bloody awful blogger I have become! Health not withstanding there is no excuse especially since (Da da de da) I finished the swallowtail shawl. Pix in another post, better get on with the questionnaire now. Which isn't very different from the SP10 one.


1. What is/are your favorite yarn/s to knit with? What fibers do you absolutely *not* like?

I prefer natural fibres, wool, silk, alpaca, soy, bamboo etc but do not have an absolute downer on fancy yarns in small quantities for such things as cuffs on gloves particularly if they are spectacular. I adore multicoloured yarns both bright and muted, Colinette is perhaps my favorite but since I resell it I have plenty. Noro is also wonderful. However I am beginning to value solid colour yarns having realised that having multicoloured everything doesn't suit many people! I have rediscovered lopi yarns which I used to use alot and have started using Debbie Bliss Cashmerino and Lambs Pride Worsted (great for crochet too) both of which I really like. I am open to new ideas here. I also spin so spinning fibres are more than welcome. Just getting into sock knitting too, I have plenty of Opal sock wool but adore stuff like 'Socks that Rock' or anything not easily available in Europe. I am starting to be more aware of the environmental and ethical issues around yarn too but am not really on top of all the issues.

2. What do you use to store your needles/hooks in?

Mainly vases but I have the fabric and have started making needle cases (1 so far).

3. How long have you been knitting & how did you learn? Would you consider your skill level to be beginner, intermediate or advanced?

I'm self taught and knitted my first item about 30 years ago but there was a big gap before I took it up again about 4 years ago. I am a competent knitter and happy to adapt patterns and make up my own but there are still lots of techniques I haven't tried. I have found cables fascinating and lace excruciating but am determined to stick with it.

4. Do you have an Amazon or other online wish list?


http://www.amazon.co.uk/gp/registry/wishlist/ref=topnav__w_h_/202-4173048-1956647
http://www.amazon.com/gp/registry/wishlist/2R94YYEF0JGR4/ref=reg_hu-wl_goto-registry/105-7016417-2922046?ie=UTF8&sort=date-added
http://www.amazon.fr/gp/registry/wishlist/ref=topnav__w/402-9283488-4746569
5. What's your favorite scent?

Lavender

6. Do you have a sweet tooth? Favorite candy?

Chocolate, Reeses Peanut Butter Cups, Mint Crisp chocolate (not mint cream)


7. What other crafts or Do-It-Yourself things do you like to do? Do you spin?

I spin, I dye, mess around with beads and cardmaking, stained glass and sewing. Interested in anything crafty.

8. What kind of music do you like? Can your computer/stereo play MP3s? (if your buddy wants to make you a CD)

I can play MP3's and like a diverse range of music from Dylan to U2, maybe old fashioned but not middle of the road. Female singer-songwriters, Alanis Morissette, Dido, Shawn Colvin. Souxie, the Au Pairs, Ova, Holly Near, Laurie Anderson. Though I could probably do with some education in classical music. I enjoy talking books, the spoken word and nature sounds too.

9. What's your favorite color(s)? Any colors you just can't stand?

Purples, reds, greens, in all their shades. Intense jewel colours of most colours except browns and pure yellow and blue. Grey and black. Quite alot of 'sludgy' colours including browns and yellows. Blues if they are 'off' (towards the purples, greens or greys). There is very little I do not like in the right combination though pastels are not a favorite.

10. What is your family situation? Do you have any pets?

1 partner, no resident children. 5 much loved cats (4 black, 1 grey) and 2 Angora goats (who give me lovely mohair)

11. Do you wear scarves, hats, mittens or ponchos?

Yes to all though ponchos I find difficult to wear.


12. What is/are your favorite item/s to knit?

Scarves, wraps, fingerless gloves, getting into hats and bags and would like to try more socks.

13. What are you knitting right now?

A red Rogue, a Colinette wrap, a so called scarf and various others...


14. Do you like to receive handmade gifts?

Oh yes, my SP8 made me some wonderful socks that I wear all the time, they are my absolute favorites.


15. Do you prefer straight or circular needles? Bamboo, aluminum, plastic?

Whatever gets the job done - for gloves and socks bamboo dpns; for large projects addi turbos.



16. Do you own a yarn winder and/or swift?



Yes

17. How old is your oldest UFO?

The oldest is about 18 years old a cardigan from yarn I spun on holiday in France almost 20 years ago.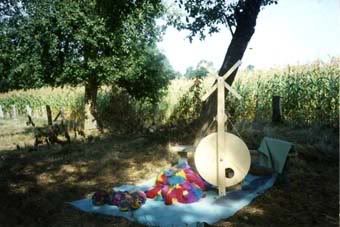 18. What is your favorite holiday?

I'm looking forward to Summer if it ever arrives.

19. Is there anything that you collect?

Besides yarn, fibre and fabrics? Well knitting books I guess.

20. Any books, yarns, needles or patterns out there you are dying to get your hands on? What knitting magazine subscriptions do you have?

I have a subscription to the UK mag 'Knitting' but will let it lapse when it is due as it is pretty uninspiring. I also subscribe to Interweave Knits (which I enjoy) and my sub to Vogue Knittting has lapsed and although I would like to renew it I had such problems with delivery I decided not to. I enjoy reading inspiring magazines and would be delighted to receive back issues (even well worn ones) of interesting mags. I am currently coveting Eunny's Anemoi Mittens, the Berroco Norah Gaughan pattern booklet and other patterns as they come up will be on my Ravelry notebook.

21. Are there any new techniques you'd like to learn?

I would like to practice some more lace, perhaps working up to shawls by working on things with shorter rows like scarves. I would also like to make some more socks and get to grips with the various ways of doing them. Also there were some scandinavian mittens that Yarn Harlot described a while back that kind of looked like intarsia but weren't, at the time I searched for instructions but drew a blank and now I can't even remember what they were called - I will investigate.

22. Are you a sock knitter? What are your foot measurements?

Having ventured into the realm of sock knitting I want to build on that. I am a size 5 shoe (UK) but with a broad foot (10 in)

23. When is your birthday?

1st April (really!)

24. Are you on Ravelry? If so, what's your ID?

maylin