Le Tour and Secret Pals
I am a bit slow in posting the last parcel from my
Secret Pal
Amber
I opened the parcel to a lovely rainbow wind spinner, just what I need to bright up these dull rainy days.
Next up, a gorgeous Green Man card, with lots of detail you can't see because of camera glare, with a sweet little feather.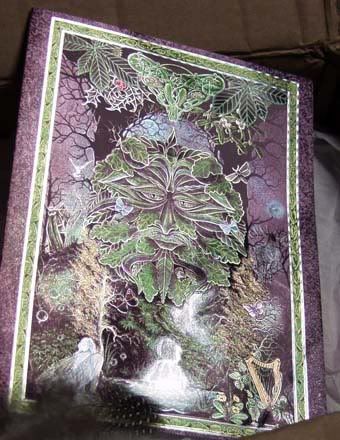 Then patterns (including the clog pattern I have been coveting for so long) and an unusual book that looks interesting.
Oh and Takumi needles - bamboo - short. I love these. A beaded book mark and sweet sheep button.
Lots of little beautifully scented soaps, incense, an haute couture notepad, koolaid and the loveliest little cat button (it looks more like jewellery).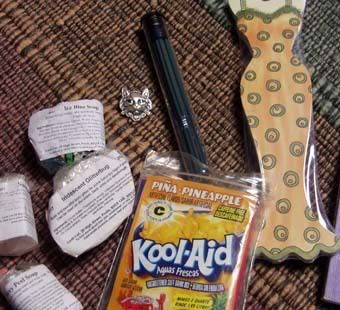 And yarn, beautiful yarn. This is so lovely. Probably the loveliest yarn I have ever had. A skein of 100% mohair in sumptuous rainbows and reds from Yarnsmith and over 400 yards of Shimmer from Knitpicks. This is baby alpaca and silk. I have already picked out the pattern for this. If my current lace project works out I would like to try
Branching Out

And the current lace project?
Well when I checked out
Amber's
blog, I saw she had joined the
Tour de France Knitalong
. Although Le Tour goes nowhere near us (
unlike last year
) I felt like I really should join in as I live on French soil.
The uphill challenge of the
Pois Rouge
jersey seemed an ideal incentive for me to finish the abandoned
Swallowtail Shawl.
I started this as a Christmas present for my SIL in Seattle (who will be avidly following le Tour). It was my first attempt at lace and I wasn't prepared for the concentration it takes. So it became an abandoned project.
The first challenge was to find it. Then to find out where I was in it. Which turned out to be a row that had the wrong number of stitches! Well there is a clue as to why it became an abandoned project. I seem to recall frogging more than I knitted. So I tinked back 3 or 4 rows until I was pretty sure I was on the right track. Since then I have knitted and tinked a couple of times. This is where I am at the moment. It looks a bit like a screwed up scrap of yarn. I am trying to have faith that blocking will bring out it's beauty.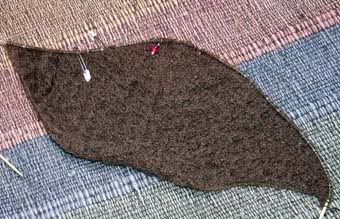 The latest updates on my son just get better and better. When he was recovering from his last bout of chemo they had to redo one of his blood tests because the recovery rate of his white blood cells seemed improbably good. They had doubled since the previous day. However the redone test showed they had doubled once again! He is bouncing back much faster than any of the doctors thought probable. He is still suffering the side effects of all the treatment and is pretty washed out but really the news couldn't be better. So thanks for all your positive thoughts and good wishes, every one helps and it certainly has here.