Eek, eek steek
Well I am back in France now and embarking on some serious spring cleaning (I am always late for everything).

I spent enough time with my son,Conrad, so that he was probably relieved not to have a fussing mother around anymore. Things are a bit up and down for him. Fortunately it looks like the long term is the up and the day to day is the down. The chemo seems to be doing what is expected but the treatment is tough, his central line got infected, he picked up a hospital bug, he is in pain or drugged and has lost his hair and his sense of taste. Worst of all the ward is chronically under staffed so no matter how efficient and expert the nurses are (and they are) they can't keep up with everything. Despite everything he remains positive and hasn't yet lost his sense of humour.

Thanks for all the suggestions of knitted goodies I can make him. I took him a really soft black beanie for which his appreciation seemed a little mechanical. He vetoed the 'We call them pirates hat' so I decided to knit him a hat for his football team Bristol City. I got some
Debbie Bliss Rialto
in red and white from
Get Knitted
(isn't it handy having your son live in Bristol?) and started knitting. Now I had assumed that the stripes would be horizontal but on seeing me knit it he informed me the stripes went the other way! My little brain struggled for a bit to figure out how I could do this without knitting sideways (I had only brought Dpns with me)then I gave up and frogged it. I am now knitting fingerless gloves in Bristol City colours.

After a consult with his partner Caroline I have planned ahead and am going to knit her
Rogue
in a deep red colour for her birthday at the end of August (that should give me enough time shouldn't it?) Therefore I will be knitting by proxy. If I can't knit him something I will knit her something to wear and he can cuddle her when she wears it. Good plan heh? She is ideal to knit for since she is tiny and prone to feel the cold whereas Conrad tends to feel too hot. She is still wearing big jumpers and socks to bed.

Anyway here are the photos of the steeked tank I made for my partner, Keith. My first steek and it has worked out so well. The pattern is loosely based
More Stripes in Knitty
but since I changed the guage, the neck shape and the armhole shape, it is hardly the same pattern. The yarn is Noro Kureyon in a colourway that he picked out and is so him. I wasn't quite sure what to do with the frayed edges on the inside of the neck though so I sewed over them with a satin bias tape. I know there are better ways to do this when knitting the neckline but I will save it for the next time. And there will be a next time, I was so pleased to have the colours match each side and how tidy the neckline looks.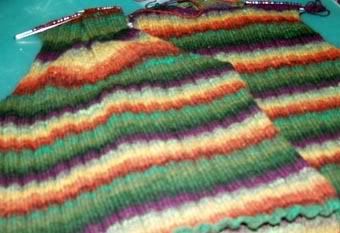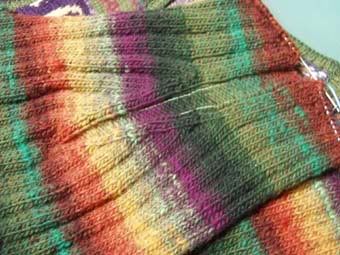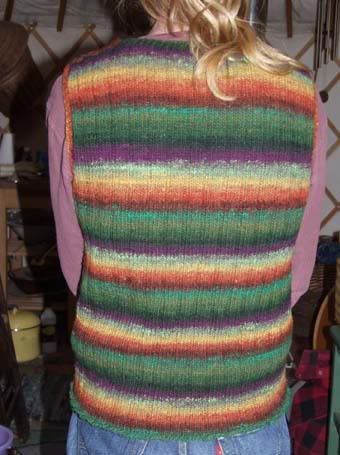 This is some yarn I have been spinning from a half kilo batt I bought at Ally Pally from
Piiku
(The same as your green fibre Sue). The colours are gorgeous, I wanted to spin it singles like Noro Kureyon and do some entrelac but it is thicker than I intended. However I now have the
Fibre Trends felted clog pattern
(also from Get Knitted) and think this would make great clogs so I will frog.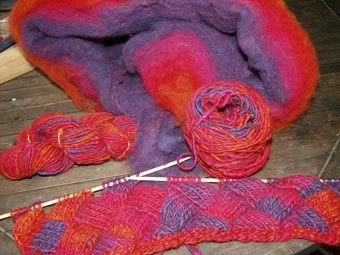 Oops here comes the rain again, just got the laundry in. I had better post this fast as the predicted thunderstorm will be here soon and I will go offline until tomorrow. Hasn't the weather been weird? Hot and cold, hot and cold.