Secret Pals rock
When I came back from the UK there were 2 parcels waiting for me. The last parcel from my SP9, Janice, and the first one from my SP10.

Unfortunately my camera is playing silly buggers. The autofocus stopped working and I hadn't realised. When I tried manual focussing I realised I probably need glasses! So please excuse the crap photos.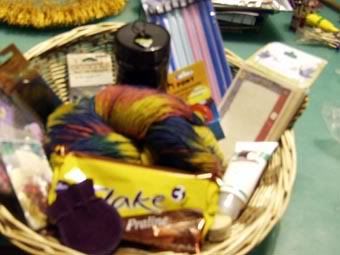 Hope I don't forget anything here there was so much from my SP9. Luscious merino wool, a huge handpainted hank, Green and Blacks hot chocolate (bliss, bliss). Short knitting needles (4 pairs!), patchouli incense, a pom pom maker, a wool comb (for those pilled bits). Chocolate (yum), a lovely glass pendant and amulet bag, hand cream a scented tea light, notelets, and various packs of things for scrap booking or card making. This was simply stupendous. Thank you so much Janice.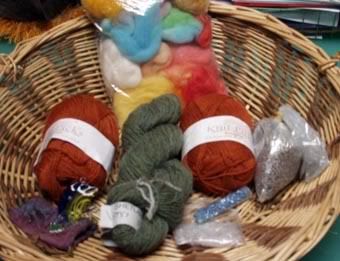 Equally welcome was my SP10 parcel. Some scrummy lace weight shetland yarn and a pair of socks worth of Knitpicks sock yarn in a lovely solid colour (I love multicolours but really need some solids for all the lovely patterns out there at the moment that just don't look right in anything but solids or semi solids). Some really unusual beads including a giant glass fish. Again scrapbooking bits and also a bag of supersoft tops in lots of colours. All smelling delicious because of the bag of lavender.
This is also a good time to say another thank you to my SP8 Lorena. I have been using the clover bamboo dpns she sent me and I think I like them even better than my Brittanys. They are so smooth. She also knitted me a pair of socks which have become my all time favorites, they are so comfortable, I feel disappointed whenever they are in the laundry! Before this I was never quite sure about all the fuss about handknitted socks. well I am a convert now!
So much for good vibes from swaps. I am trying not to get despondent about the fact that I still have not received anything from the 'Spin me a Treasure' swap. It is now months after the end and a month after I was promised an angel but still nothing. Ah well.
Labels: swaps