Time to Update
A huge thank you to my
Spin to Knit
pal,
Maggie
for the beautiful package I received ( a while ago now). The yarn is a squiggy soft merino in wonderful fresh spring greens. There were also some fantastic herbal toiletries from
her own store
. I feel so lucky, what a wonderful pal.


I also received this lovely alpaca fibre from my SP9 spoilee, Estelle, as a thankyou. Wasn't that sweet of her? It looks so uninteresting in the photo but that is because you can't feel it. I might spin it with some tussah silk. Hmmm.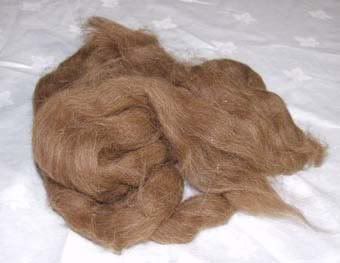 Karen who owns my LYS asked if I would dye up some white mohair yarn that had been lingering on her shelves all summer, so I went to town with the colours, skeined the balls and space dyed the hanks. It did take rather alot of dye baths though.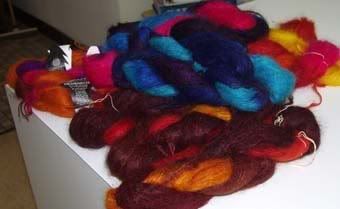 I hope it sells.
The large yurt (unlike the small yurt which we have had much longer) is suffering from some sort of canvas rot. The crown cover has all but disintergrated.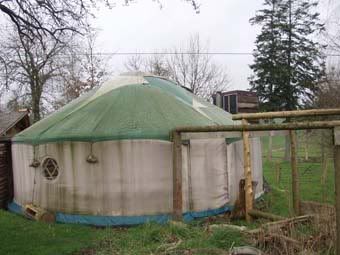 So when we saw an industrial sewing machine for sale in mid Brittany we had to check it out. It was a three hour journey and despite its rather neglected state we decided to buy it. Keith spent time chiselling off the dirt (really), cleaning it up and making lots of minute adjustments to the tension but he has it working just fine now. So now we just need a source of inexpensive good quality canvas and we can effect much needed repairs this summer. It will be so useful in the future too for the inevitable home repairs.