Big is Better?
I didn't blog for the
Friday Night Spinners
for a while but this is what I have been working on. The wonderful
Ruth
sent me some beautifully soft merino cross roving. I nearly always spin pretty chunky since that is what I mainly knit so I thought it was time I tried to go finer (it is all pretty haphazard since I am self taught and don't really know what I am doing!).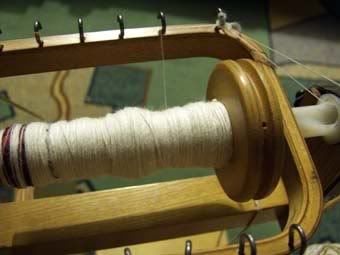 So I spun and spun and spun, well that's what it felt like. I finally finished at my spinning group last Sunday and I am really pleased with the result.
35g and 160m so I guess that would be a fingering weight? Is that like 4 ply in UK speak? Best of all it is still really, really soft. Thanks Ruth.
I have also been trying to finish my belated Christmas gifts.
I made a
Sunflower Tam
from the book
Nature Knits
to go with the
Fetching
mitts I made in child size. I used 2 strands of Patons Fuzzy Wuzzy ( a very old angora yarn) and 4.5 mm DPNs. It is a lovely shape that didn't need blocking and the design on the top is pretty stunning.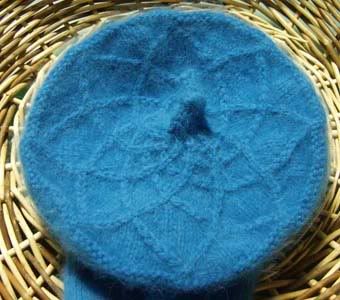 The very generous Sylvie from
Chez Plum
sent me a copy of her
Cactus Mitts
. They looked so good I had to try them straight away. I loved the colour of the mohair yarn that I used but in retrospect I think it is too fluffy as the pattern just does not show up well.
This is such a fast knit, much faster than
Fetching
, so ideal for a last minute present. It is knitted on 2 straights but since I dislike seaming I decided to try it in the round for the second one. It might have helped if I had engaged my brain first.
I used 2 stitches less because there would be no seam and the same size needles (5mm) so I was somewhat surprised that they were coming out so big. I mean loads bigger. I accept that my guage might be different on DPN's but surely not this much? I had got more than half way through before I twigged. When I cast on the 28 stitches at the beginning on three needles I thought 12 + 12 + 14 = 28... Doh. This would be funny rather than tragic if I didn't have a Maths degree!
However it seems that I knit tighter on DPN's (left). I knit these with a leftover part ball of yarn and ran out a few rows from the end so stopped then as I have short fat hands. I unpicked the last couple of rows of the first one to finished the left thumb. A bit of a mish mash but so cozy and I am pretty sure of the pattern now so I think another pair will appear soon. Thanks Sylvie.
So back to Ruth, also known as
Woolly Wormhead
. Last week I got her cable cap pattern and knit it in 3 strandsof Alpaca from my stash. I even swatched it and marked the size I needed.
However since I was knitting on DPN's from the centre out it was hard to get a really good idea of size. So I convinced myself it wasn't big enough and knit it larger.
I realised I was off mark when I switched to 2 circulars and tried to compensated by going down a needle size for the brim. The hat is so nice that Keith was trying to persuade me to keep it myself (friends even told me it made me look like Yoko Ono). But alas it is definitely too big and certainly not ok for my SIL (another late Christmas present). So some frogging is in order I guess.
Lastly look what Amber sent me. Isn't that thoughtful? She saw he picture of my Tricotin and thought I would like them. Can't wait to try them out.