FO and UFO's
First finished object of 2007, and it is a Christmas present (late). I have 2 follicully (spelling?) challenged brothers and a similar son. Since they all seem to wear beanies (only black of course) I thought I would make them in some really soft (but not girly) yarn. This is Sublime Cashmere Merino Silk. Lovely to knit but with a slight tendency to split and deliciously soft. For the next one I will increase the rate of decrease near the crown to flatten the top a bit more and maybe alternate the decreases between left and right slanting and see what that looks like.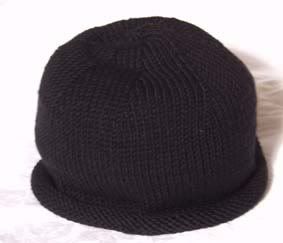 Next up ... the table of shame. My UFOs after I frogged the ones I wasn't going to complete and removed the 4 crochet projects that currently hurt my hands.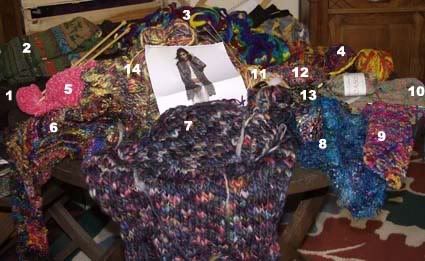 1. Keiths brown shetland jumper that I spun and knit him and which he burnt a hole in the back of by leaning against the rayburn once too often - to repair.
2. A little damage to a tank I knitted him that needs repair.
3. Cardigan from my own handspun almost completed but not sure I have enough yarn so may have to alter it a bit (approximately 19 years old!)
4. Cushion cover in Colinette Fandango and sari silk - halfway through one side.
5. Pink chenille lotus bud bag - 25% complete.
6. Sari silk bag, too wide and shallow, need to lengthen it.
7. Shorty cardigan from Rowan pattern (adjusted) in Colinette Point 5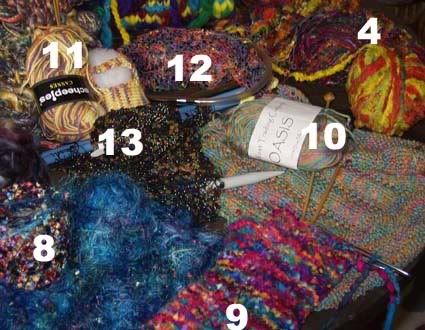 8. Triangular garter shawl in Colinette Silky Chic and a commercial boucle.
9. Fingerless gauntlets in Colinette Tagliatelli 47% complete.
10.
Isabeau Tote
in SWTC Oasis Soysilk
11. Pair of baby boottes - one done. Of course there is an
incentive
to finish these now.
12. A scarf in SWTC Melody.
13. A triangular shawl in some strange yarn I got from
Prudence Mapstones
stand at Ally Pally.
14. A coat in Colinette Shimmer 5.
Also currently on the needles (begun this year) another beanie hat in Sublime and the
Swallowtail Shawl
from Interweave Fall 06