How Fetching
I have been knitting
Fetching
.

I tried it in the recommended yarn - Debbie Bliss Cashmerino Aran and just love the yarn, so soft and washable too. However I didn't like the picot cast off as it seemed to make it saggy at the top, so I tried just casting off straight in size larger needles (in my case 4mm as I had knitted in 3.5mm). It was still a bit saggy for my liking. Version 2 are the purple ones in Cashmerino DK knitted on 2.75mm (my beloved Brittany 5 inch DPs). According to the
Fetching KAL
these should make a childs pair but all my friends who tried them on felt the purple ones were a better fit than the green ones. Maybe I just know people with small hands... I cast off in K1P1 rib on 3mm needles to try and reduce the sagging even more.The cream angora ones are knitted from some lovely Jaeger Angora I got in a swap from
Amber
and have turned out the nicest so far. I thought they were too short after the thumb opening as I prefer them to cover the knuckles so I added an extra cable repeat and stopped 2 rows after that (instead of 4) while the cable still pulled it in a bit to further reduce the sagging and then cast off straight without changing needles. I think this is the final modification. So I am now on to pair 4 in bright turquoise angora - Patons Fuzzy Wuzzy - I swear this yarn must be 30 years old as I have had it for about 10 years and the box it is in is labelled in 'old' money (pre-decimal). Since I believe decimalisation arrived in 1972 that makes it at least 34 years old (unless it was reboxed?). Still it feels as good as new and I am hoping that some little girl will like them this Christmas if I ever get round to shipping them, as these really do seem to have turned out child size.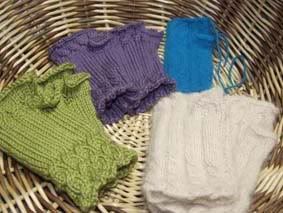 In France mittens are les moufles and les mitaines are fingerless mittens. Talking of mittens have you seen the absolutely gorgeous ones that
Eunny
has just designed? I so want to try these. Maybe I will get the pattern for Christmas?
Anyway I have been doing some other mitaine knitting. In the
Warm hands, warm heart
swap my partner was
Amy
and I knit her some fingerless gloves in
Colinette Tagliatelli
a merino wool ribbon yarn. I also started a pair of really long ones for myself. This is from 2 skeins of
Tagliatelli in Jamboree
that I had from frogging a loose top that I knit ages ago and never wore. I used much smaller needles than those recommended (4.5mm) and the result is a really dense velvety texture that I really like. It is knitted in 2x2 rib which adds to the elasticisty. I think I am going to like them.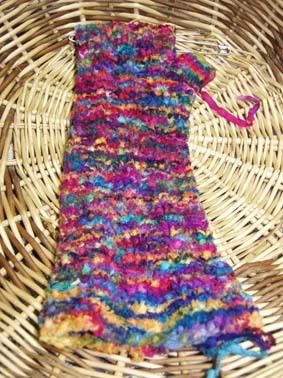 Also on the needles is a commission for the daughter of a friend. She wanted a poncho and picked out the pattern herself. She chose the
Panache Poncho
a rather sophisticated choice for an 8 year old - but then she is french. The yarns she chose are pictured here,
Colinette Silky Chic in Lapis and Florentina
and
Giotto in Fresco
just to add a bit of a spine and stop it being too saggy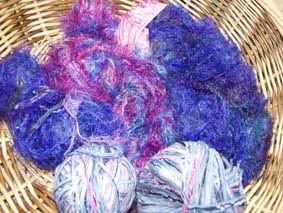 The mitaines I really, really want to knit are the
Mermaid Gloves
. They are beyond beautiful. I had been musing for sometime that the pattern on the
Pomatomus Socks
would make lovely gloves and of course someone had already done it! So they are top of my New Year Determination list. Talking of which I need to review which of this years determinations still need some attention (or abandonment!) I like to start composing a list at Solstice and write it down at New Year (this year it turned out to be Chinese New Year!) So who else will post their 2007 Determinations?