Normal Service is resumed.
I have been away for ages because after all the distress of Nick's death and the preparations for his memorial service my broadband went down.
The helpline was almost impossible to get through to (it took 30 hours of regular calls before I managed to talk to a person at 1am). They sent out a new router but that wasn't the problem. It was the line. So they informed engineers and told me that it would take 8 to 15 days to fix. Luckily it was a lot less than that.
So I have lots of catching up to do and I beg forgiveness now if I miss out any thanks due to anyone.
First off - Sock Wars!
Well it was a confusing start. Dossiers for assassins were due to be sent out on 22nd September but no time or time zone was given. All day there was speculation on the forum including the slowly sneaking doubt that it might all be an elaborate hoax. However yarnmonkey who was coordinating the whole show lives in Belfast and was caught in hurricane Gordon. She is fine but comms were down. In a brief spell online she managed to get the pattern posted on her blog and later a list of assassins and victims.

It was chaos for a while however as many finished their socks and didn't know where to send them. Wonder of wonder I was one of those people. Yes, really, I finished a pair of socks in a weekend! Only my second pair of socks ever. I never thought I would ever be able to finish a pair of socks but I have done it in a weekend. Considering my record for finishing ANYTHING this is truly nothing short of a miracle. It just goes to show what a bit of competitiveness can do.

Here is the proof. Oops forgot to photo them before stuffing them in an envelope in my eagerness. Well here is a pic of them halfway through.




Pattern was the Sock of Doom, knitted in Opal 6 ply on 3.5mm dpns.

This has been so good for me in terms of helping me finish things I never even had second sock syndrome, but I am such a sluggard compared to some. i am not sure who was the first to finish their socks but Joni posted pics of her finished socks in the early hours of the morning the day after we received the pattern. I am in awe.

Beware this woman she is a dangerous, approach with caution.
Well I sent my socks to my victim on 26th September but before she could send her part knitted socks to me I was assassinated by a lovely blue pair of socks that came in a parcel full of swag!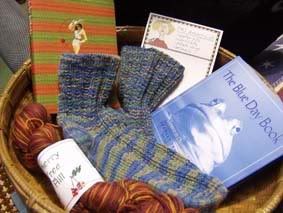 There is some gorgeous Cherry Tree Hill sock yarn, it feels so soft. A stitch 'n' bitch Project Journal that looks so useful, I have started using it already. A PMS shopping list magnetic pad that brought a smile to my face (it is so how I am feeling) and a photo poem book with the cutest animal pictures that really cheered me up. And of course the socks! I can only photo them here as I wrested them from Keith's grip - he stole them from me almost as soon as they arrived even though they fit me perfectly! Thank you so much Ninja Knitter.
What else, oh ages ago I received my stitchmarkers from
Mark those Stitches
.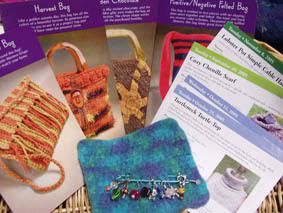 There were some really cute ones, I love the green turtle and the cat one. Thank you
Yarnmaniac
I was also part of the
Magic Ball of Yarn Swap
and received these goodies from
Marylyn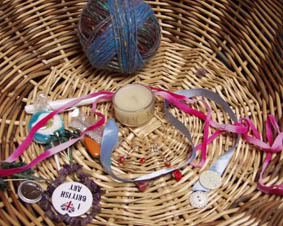 This is the ball of yarn I sent to my partner, 2 pictures from different angles. I had a lot of fun getting it together. It went to
Cassandra
.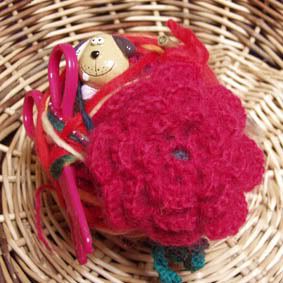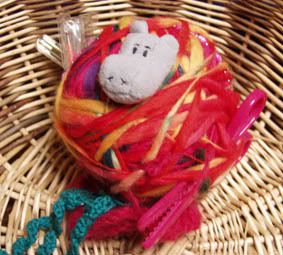 What else have I been up to?
I knit a One Skein Wonder for my son's girlfriend, Caroline. It is in Colinette Prism colourway Blue Parrot. It took very slightly over one skein (I ran out halfway through casting off). It looks tiny but I had a friend try it on and it looks good.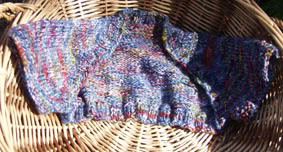 I should really send it off but I want to make some fingerless gloves to match.
Talking of fingerless gloves these came from Japan.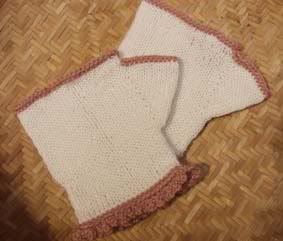 They were knitted by my One Skein Secret Pal, a little late but so sweet, all my friends have tried them on and insisted they look much better on them! My pal was Kastra on LiveJournal (but I haven't managed to link to it).
I also became a One Skein Angel for Katie at
Daisychains
Last Thursday I went to a one day patchwork workshop where we were to make a log cabin patchwork in a day! I didn't quite make it but my friend Sharon did.
She was a beginner sewer too!
My patches are not complete yet and I think I might make them bigger. I went for batiks (just love those bright colours).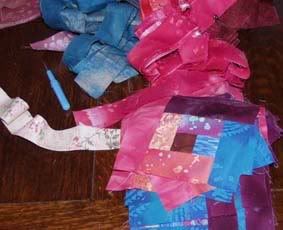 Will I get this finished without the pressure of a workshop? I hope so.
Last thing for now, a picture of the monthly spinning group that has started up here.
Well thats enough for now but I must post my SP9 questionnaire soon.