Hooray for Secret Pals
Sorry
that it has taken me so long to blog about the final parcel from my wonderful, wonderful Secret Pal Lorena at Snarkland (hope your sore throat is better, Lorena). I had the foresight to take photos as I opened it just minutes before we went off camping for the weekend.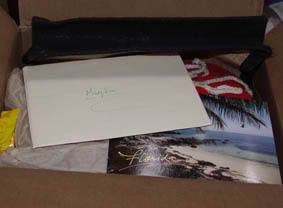 And first out the box we have - chocolate! Since Lorena has been sending me Reeses Peanut Butter Cups they have become my all time favorite. I am so glad you can't get them here or I would be even fatter than I already am, and it is such a treat when I do get some. Funnily enough I didn't take these camping with me but put them in the fridge for my return. (Am I wicked? Since we were camping with 2 other families the thought crossed my mind that there were an awful lot of people to share with! Oh I feel bad now I have said it out loud)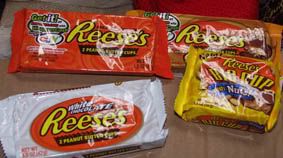 Investigating further, there is a postcard from Florida (where Lorena lives) and a notecard with a photo of one of the Green Men in Lorena's Garden (we also have a Green Man). There are socks which Lorena knitted for me, I was so touched this is my first pair of handknitted socks and only my second handknitted present ever.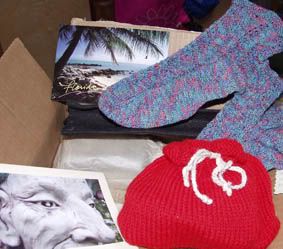 See the lovely handknitted red drawstring bag? That was full of goodies too. Inside was Kool Aid (of which more later).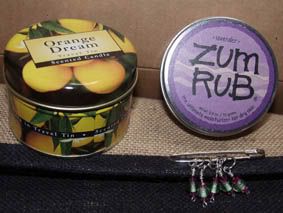 And some sweet stitch markers in lovely green and purple, some heavenly lavender heavy duty moisturiser. It is organic and smells wonderful. A scented candle in a travel tin ( I should have taken that camping!). And there's more.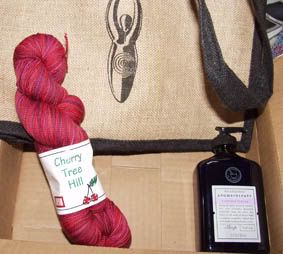 Cherry Tree Hill Sock Yarn, 100% merino superwash in Wild Cherry colourway. It looks more like raspberry to me and good enough to eat. Even though I am getting into sock knitting I think I may well make some long fingerless gloves with this, it needs to be on show. More lavender goodies, some lavender-vanilla handwash. I do love lavender. There in the background do you see that hessian tote bag? Here is a closer look.
It has a moon goddess printed on both sides. This is so me. How did you know Lorena? This will get so much use.
I have so enjoyed this Secret Pal 8 that I am encouraged to sign up for the next round, but I couldn't hope to get such a wonderful partner next time. It isn't just the wonderful parcels but the obvious thought and, well, love that has gone into it ( that sounds soppy but I don't mean it like that, if there was more of this kind of love in the world we wouldn't be in such a mess). Yarn Harlot says (in the book Lorena sent me) that knitting socks for people is about warmth and love so when I wear them I feel the love (very sixties).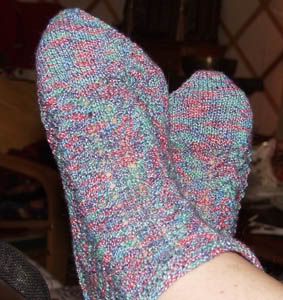 And they fit divinely.
Lorena also got me (finally) into sock knitting, by sending me irresistable yarn and here is the proof that I have actually done it.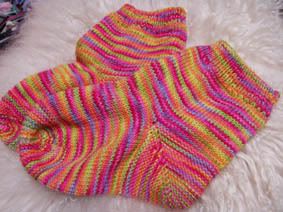 Well yeah, I know they look kinda short and chunky, and although I do have sort of short, chunky feet, they're not quite that chunky. They do fit lengthwise but are rather loose, I obviously still have guage issues (I really, really did do a guage swatch and I double checked my measuring and I have a degree in Math so I should be able to crack this). However, I love them, and they are the first pair of socks I have knit and I absolutely am not going to frog them. They will make great over socks and this winter might be so cold I will need two pairs at once and then I will really appreciate that they are baggy.
In the first parcel Lorena sent there was fibre to spin. I normally spin quite chunky but this was so soft I just wanted to try something finer. Here it is.
And a close up.
I had to use a flash so it has kind of washed out all the many hues and colour changes. I love it but shall I just fondle it or make it into something?
There were also the wonderfully chosen patterns that I will make good use of soon, soon.
Perhaps though the best thing that Lorena gave me was the blue print of how to be a great Pal. She was certainly the role model for me when I thought about who I was sending to.
My spoilee was Maria at
Myra's Knitting Basket
and she lives in Sweden.