Socks that Rock
And my Secret Pal is dah dah Lorena at Snarkland. She gave me one too many clues not realising I was a long time SF fan. Having said that, it is sometime since I have read anything much in the SF genre. I think the last thing was Maureen McHugh's Nekropolis and that was over a year ago. Oh, except an Iain M. Banks that a friend lent me, 'Player of Games', but I wasn't very taken with that and had to struggle through it. Unlike my knitting, where I have anything up to thirty projects on the go (or rather in suspended animation) at once; I can only read one book at a time, and once started I have to finish a book no matter how awful. This does mean that I can spend months on one book if it is truly awful (as with Patricia Cornwell's 'Trace'). I feel very out of touch with all things SF (can't wait for season 3 of BSG though) so can you recommend any good reads, Lorena?
Talking of my wonderful SP8 though, do you remember the yummy Socks that Rock yarn she sent me? Well they actually tempted me to make my first pair of socks. I have made one sock before (well nearly) and knowing I would definitely suffer from SSS (second sock syndrome) I started both at the same time. Good practice for Sock Wars too!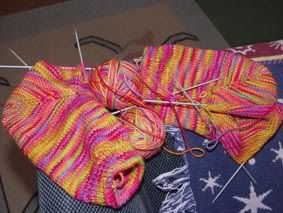 I am using the pattern 'Timberline Toes' with a short row garter heel form Lucy Neatby's book
'Cool Socks Warm Feet'
. It looked the simplest one to start with and is going fine so far.

Everything is on hold though until I finish the gift for my One Skein Pal which I have so far frogged more times than I care to think about. Pictures when it is done.