Crocheted Doily with Sleeves

My Secret Pal sent the latest edition of Interweave Crochet. One of the patterns was an
Annie Modesitt shruggy thing (scroll down)
which is basically a large doily with sleeves. I love ingenious shapes.

My friend, Margareta and I decided to have a crochet-along and started sometime last week. Margareta has the same cavalier approach to patterns that I have - find some yarns that seem right and a hook that suits and crochet. Guage? Pah. So of course it seemed far too small when it came to set the sleeve holes. So what? It is only a big circle, just keep going until it seems right, put the sleeve holes in at around 10 o'clock and 2 0'clock and carry on until it fits. (Sorry Annie). We shall see.

I used 2 shades of
SWT bamboo
which seems to go on for ever. The sleeve holes look very unequal so maybe I miscounted and need to frog.





Margareta is using bits from her stash, mostly cottons.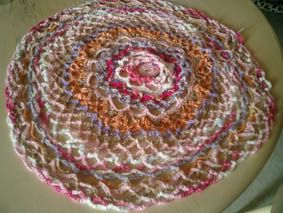 There were quite a few things about this pattern we didn't like though. For one it is not an easy pattern to comprehend although the revisions on the Interweave website do help. The solid circle in the middle looks out of place, maybe it wont seem so prominent after blocking, but if I do this pattern again I will substitute something else. Margareta has tried embroidering over her centre. There were certain things about the pattern that seemed a bit inelegant (in the mathematical sense). For instance I don't see any need to backstitch to the centre of the last chain loop in the previous round. Why not just end the last chain loop with fewer chains and then a dc or tr or whatever is appropriate and then you are automatically left in the middle of the chain loop. Another gripe is doing 8sc (dc for non USA audience) into an 8 chain loop. I think it looks kind of scrappy, chains seem longer than sc so a chain loop (IMHO) should accomodate more sc than the number of chains to look neater. Last gripe (for now) is having to slip stitch between 2 sc (to be in the centre of a loop), again it seems much neater to have an odd number of sc and slip stitch into the middle one.

Gripes aside I love interesting shapes (as I said before) and can't wait to see how it hangs in reality (i.e. not on a model). That said if it works I might just find a nice doily pattern, work it big and add sleeves.

Anyone else done or doing this pattern?