Under Construction
For those of you who are interested, we live in two yurts with additional bits. The latest additional bit which has been under construction, for some considerable time, is the cabin joining the two yurts. We wanted it to be made from recycled (and if possible free) materials - so far we have only bought lime, nails and crochets for the roof tiles. This will eventually house all the books now in boxes and be a kind of hallway for coats, shoes etc.
This is the view from the outside.

The walls are constructed from the trunks of an overgrown leylandii hedge that Keith removed for someone and the roof tiles are reclaimed from buildings where we live.
The little 'door' at the bottom is for the cats.
This is what it looks like from the front.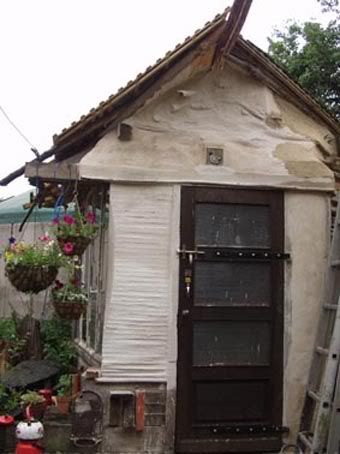 The mortar/plaster is made from lime and clay dug on site. The door was being thrown out (it is a bit ugly but maybe we can do something about that later). The structure is bits and pieces, mostly coppiced hazel and lathes cut from local oak.

Inside the walls are all different.
This is mainly cordwood from the leylandii hedge.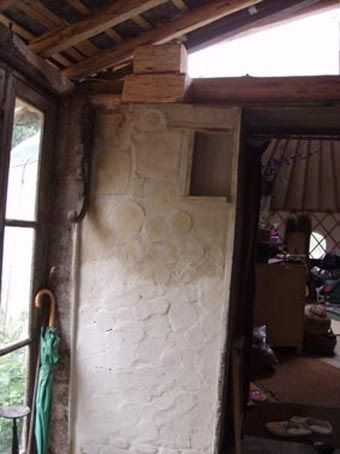 This wall is woven oak slats, the wall is packed with rubble.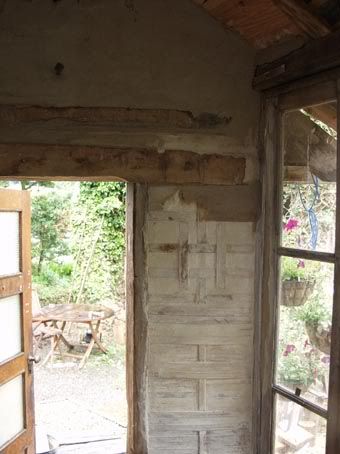 The small arched window slit here is made from tumbled recalimed bricks. I am making a stained glass panel to fit in it.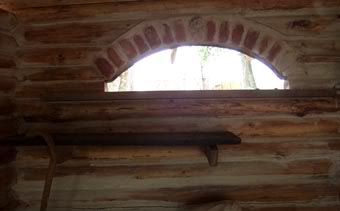 Once it is finished, watertight, tidied and packed with books I will post some more photos.

Curious about the house we are restoring and hope to live in one day? Well thats another story, for another day, but when you see it you will understand the appeal of living in a tent!