Sew and sew
Last Sunday I went with the group 'Doigts Agiles' to a quilt exhibition at Flamanville (near to Cherbourg and proposed site of a controversial new nuclear power station). As usual some of the work was stunning. The detailed, expert work produced by ordinary women in their 'spare time' beggars belief sometimes. I particularly liked the use of colour in this one, the detailed quilting on top of the patchwork probably wont show well in the photo but believe me it was stunning.
My favorite was much simpler, obviously influenced by Klimt.
Here is a more detailed shot.
I love the fabrics and the whole effect was so rich. Considering brown is probably my least favorite colour it just goes to show how little that means when it is used well.
There was also a bag in similar fabrics shaped like a scarab beetle. Sorry the photo is a little blurry I obviously got too close.
Wouldn't that make a divine project bag?
Talking of bags the pattern for the patchwork bag which everyone in 'Doigts Agiles' seems to be making is still the project of the moment in all sorts of styles, sizes and crocheted as well as sewn. I finally succumbed and made one.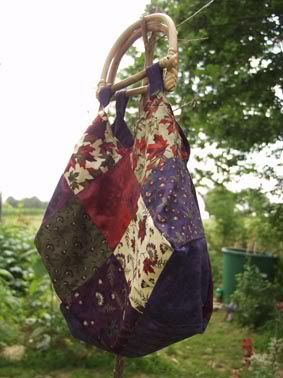 Aren't the fabrics lovely? I got them from Dale a wonderful woman originally from the US now living over here. She is retired but has a 'quilting barn' where she runs classes. It is reputedly full of yummy fabric. I am plotting to visit with a few friends as soon as funds allow.
In the meantime I received this yarn from Les Laine
six skeins of mercerised cotton
and one skein of lace weight
wool in 'Barbie Rose'