Spinning
"Je vais essayer de faire ce blog en anglais ainsi qu'en français. Je m'excuse d'avance si mon français n'est pas au top - laisse-moi un p'tit mot dans 'comments' pour me corriger. Merci, bonne lecture et surtout bon knitting !"
Last night I finished spinning the yellow wool and mohair. Here it is, I wish you could feel it. It is so soft and lustrous.
Hier soir j'ai fini de filer la laine et le mohair jaune. La voilà. J'aimerais que tu puisses la toucher si douce et brillante.
Next I will be spinning this which I bought on ebay from Denise at
Knitting Kitties
. One roving is wool and the other is silk.
Prochainement, je filerai ces fibres de la laine et de la soie achetees à Denise de
Knitting Kitties
sur Ebay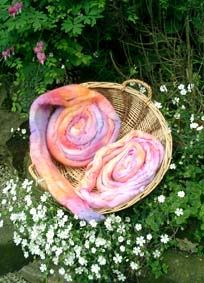 Finally in response to Kate Gilberts post at
Needles on Fire
here is a picture of my workspace.
Enfin en réponse à Kate Gilbert à
Needles on Fire
voici un photo de mon espace de travail.