Swapping all round the world
Just to catch up on how my swaps are going:
My partner in 'Mark those Stitches' has received her parcel from me. She is Mira at Knittintherapy way over in Malaysia.
Also my SP8 partner Maria in Sweden has received her parcel, catch her at Myra's Knitting Basket.
On the receiving end I got a wonderful parcel from my Whose Lace is it Anyway partner Rox, The Fearless Knitter. Take a look.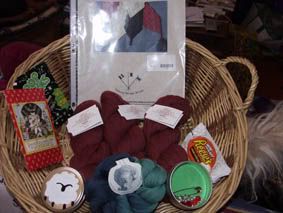 That's 3 skeins of Knit Picks merino lace weight and a skein of Artizan merino lace weight from New Zealand. They are so soft, I don't want to knit them, just cuddle them. Also the Lucy Neatby pattern 'Falling Leaves' which I have read so much of. Some beautiful red stitchmarkers in a tin painted with a sheep (of course). And of course candy including White Chocolate Peanut Butter Cups (and since you are discrete readers you will not notice that the packet is empty!).
Now in a bizarre twist Rox is also the partner I am sending to, and although I have not yet missed the deadline I am cutting it close. Amazon should be taking care of part of it but the rest of the parcel is sitting on my table awaiting posting. (The Post Office is 10Km away and open weird times but I promise it will go tomorrow). As a taster though I can let you know that I got the yarn from
Posh Yarn
where I also got these for myself (how could I resist? I had to make up the order to get free shipping - didn't I?)
The top skein is Cecilia cashmere/silk in colourway Passionate and the bottom is Arabella cashmere/merino in colourway Feather. They are even better in person, so incredibly smooth and soft. My only moan is that they don't have a Posh label with all the relevant details on, one day I might forget who they are!
I am also behind with my parcel for my
One Skein Pal
. i think I was lulled into a false sense of security knowing she is on holiday for another week. I must however finish her gift! I have got to the point with it were I am not frogging anymore but they do look a weird shape, so some serious blocking will be needed. Right better get knitting!
Thank you to all the kind wishes for my stung foot. It is still sore but not too bad, and I have to report that lavender oil definitely helps. Thanks for that tip
Amber
.