Ally Pally part 3 - The Knitters
Better late than never - here are the pics of the people who really matter - the knitters
Of course one of the big advantages of going to a big event like the Knitting and Stitching Show is to meet up with all those people you only know online or only see intermittently.

This year I went again with my friend Margareta and we decided to do 3 days instead of the two we did the year before.
We helped out in the afternoons at the Knit and Relax area overseen once again by Yvonne. It was pleasant to pull up a seat and help newbies just starting out. This year I seemed to help more people to learn to crochet. I hadn't realised how quick it is to learn enough to make something from a book. This is what one youngster wanted - the skills to make a crochetted necklace in a book she had just bought. Another had learnt to make granny squares in the morning and had thought of some adaptations she wanted help with. Knitting and Crochet really are popular now - almost enough to make you feel young!

Here is
Yvonne
with
Sue
still looking relatively sane.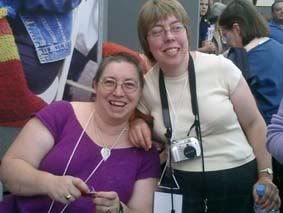 and Sue a little later looking not quite so sane.


She had been doing some finger knitting for an eager spectator but had to contend with (another)
Sue
deciding to have a little fun. Then photographing her handiwork!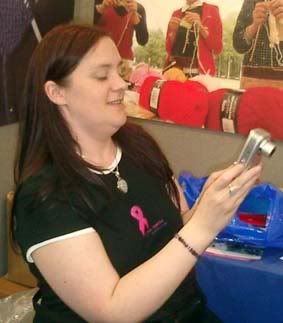 Margareta helping on the Knit and Relax stand.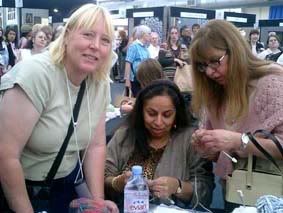 Another helper, who wants to come meet us in Paris for the L'aiguille en fete next March. However I lost her email address (lovegirl or something like that) and I can't remember her name. Yes, I am pretty hopeless, does anyone recognise her and can email me her email address?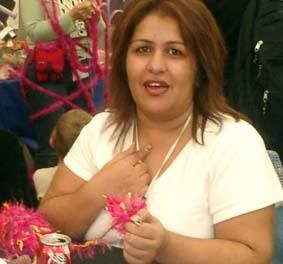 Two wonderful ladies who came even further than us, all the way from the US of A. Clara who gave us each the cutest broach of tiny knitting (she had made a load and was giving them away) which I got quizzed about endlessly for the rest of the show, everyone loved it, and
Sally
who had organised the tour which brought lots of wonderful transatlantic knitters over.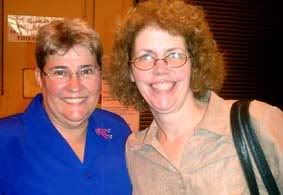 Last but not least, Rachel John, the exponent of Extreme Knitting. I have known Rachel for years but hadn't seen her since moving to France. Until I went to the Knitting and Stitching show last year that is. She recently set a record by knitting with
1000 strands together
.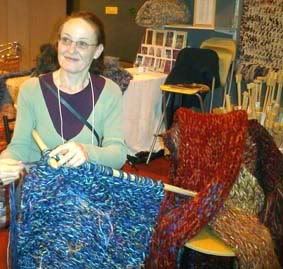 Well more soon, hopefully with some pics of FO's and some dyeing I have been doing.