Finally, finally, finally!
I have finished the funky scarf for Linda and posted it off to her. I am so relieved, it was an ordeal in the end, but I do like how it turned out and when my hands have had a rest I might try and make one for myself. It is 100% cotton and my own design.
I started by crochetting a grid in chains and trebles (9 chain, 1 treble) but every now and then leaving a square gap to add a crochet flower. This was the sketch I worked from. Really professional looking - not.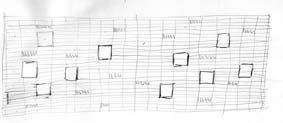 I added lots of curly wurly fringes, the idea being to add leaves and flowers at the end of each. But when I had finished the basic scarf I realised that I had 90 flowers and leaves to crochet and sew on! However it was finally completed and here are the pics to prove it.