Ally Pally part 2 - The Superstars
Where else could I rub shoulders with so many luminaries of the knitting world?

My friend Margareta and I went to a Prudence Mapstone workshop on Bullions (a particularly difficult crochet stitch which looks fantastic in freeform). We caught up with her later on her stall.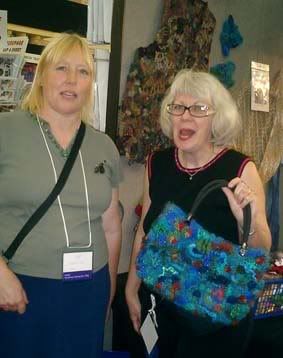 Then there was Lucy Neatby, who I think is just fantastic, telling us how to keep our stitches contented. I also learnt how to do a quicker and looser cast off.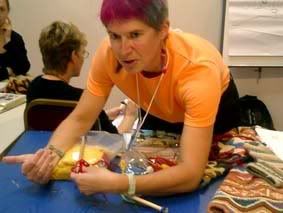 She also described how this fantastic waistcoat is made out of 4 triangles. Well I am sure only she could make 4 triangles look this good.




I wanted to buy some Cashmerino to make the Fetching fingerless gloves so I headed for the Debbie Bliss stall. I didn't realise that there was an Aran and a DK weight and couldn't remember what the pattern used. So I asked the lady herself.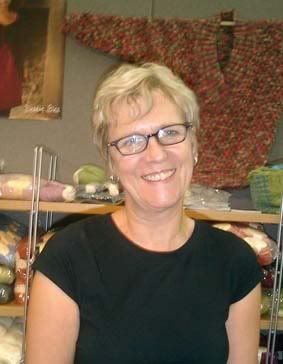 I was amazed to find out she was unaware of the pattern, but then I suppose people use her yarns for stuff all the time. Given that only one ball was necessary she thought the DK was the more likely but to be on the safe side I bought one of each. Just as well as it turns out to be the Aran yarn that is needed! However there is a knitalong for Fetching and someone posted that using the DK with 2.5mm needles gives a child size pair. Perfect.