Ally Pally part 1 - The Shopping
So many things to buy... There was a lot more knitting this year and about 4 or 5 spinning based stalls when I only remember 1 before, but on the whole a lot the same as last year.

So what did I get? - A swift and some short bits of merino tops in lots of colours from the
Handweavers Studio
. A travelling bead organiser for myself and one for a Christmas present.

These magazines, there seem to be 2 new UK ones
Knit Today
and
Yarn Forward
. Knit Today seemed a bit of a clone of the 2 existing UK mags but Yarn Forward was much better and I am considering subscribing.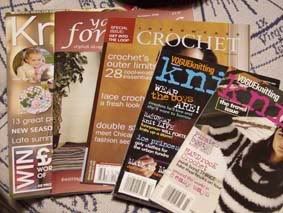 This fabulous book, I want to make so many of these bags.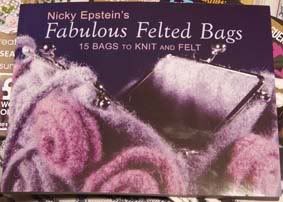 I just discovered that the incredible swan bag S'wanderful has it's own knitalong as well.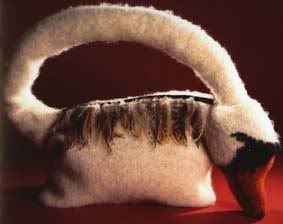 And Yarn! Some of Lucy Neatby's Tradewinds Celestial Merino in a yummy Fiery Fuchsia, I might make socks with it or just fondle it.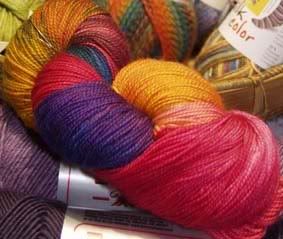 More Sock wool from Schoeller and Stahl and Regia (Regia silk and Bamboo). Some Lambs Pride Worsted, just to try it out. Some unbranded lopi style yarn in reds and black, Debbie Bliss Cashmerino and yes some novelty yarns for trims on bags and gloves.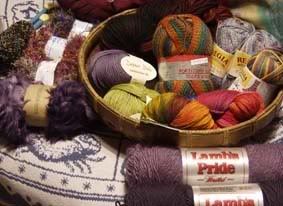 I also fulfilled a long held wish to have some hardwood sock needles and nearly broke the bank on these
Monkey Sticks
(2mm rosewood) from
Foreign Strand
. The trouble is at this size they are a bit bendy and I am scared of breaking them!




I also bought a set of new crochet hooks on the recommendation of Prudence Mapstone who says they helped with her RSI. They are imported from Japan and are comfy to use. I went to her workshop on Bullion Stitch. She recommends an even single ply or a skeined counter plied yarn for this stitch. I tried the Lambs Pride Worsted and it worked brilliantly. I must try and get more of this in other colours. It seems a mite pricey though compared to the States. I paid £5.99 for a 4 oz skein (Thats almost $12)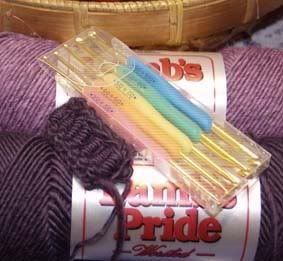 And fibre. I scored 200gs of Tussah silk to mix with the mohair from my goats and a luscious batt of Finn wool dyed in purples, reds and orange from
Piiku
. I remember last year they almost sold out the first day! I think it is intended for felting but I bought it for spinning. It is a shame I had left my euros in the car as she would have accepted them instead I cleaned out my purse of sterling (until I encountered the next ATM)!