Just some things to share.
My favorite card.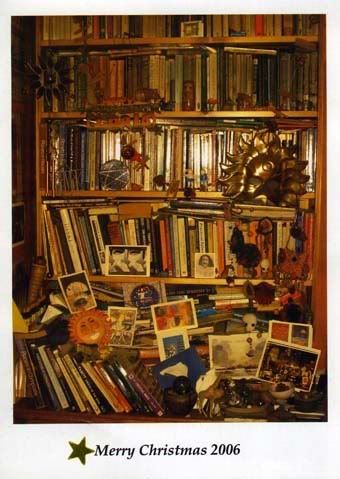 This a picture of the bookcase in the kitchen of friends David and Gloria in deepest Somerset (not far from Glastonbury for all the international readers). This is the card they sent the year before: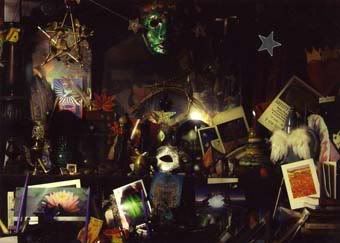 It is the bookcase the other side of the door in their kitchen. David is an artist and expert on 3d photography who runs a business making 3d cards. Gloria is a much sought after karmic astrologer (she does 3+ readings a week and last time I asked the earliest she could book someone in was a year ahead!). These photographs evoke lots of special memories and time spent with friends in their kitchen. It makes me feel so homesick.

Today my son sent me photographs of his partner Caroline wearing the One Skein Wonder I sent with her Christmas present. I am somewhat ashamed to admit this was a late birthday present - her birthday was 28th August!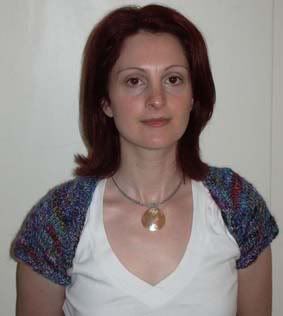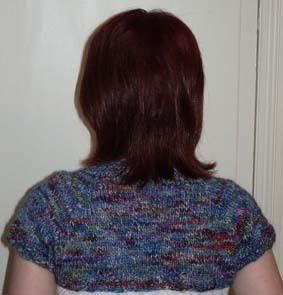 This was knit with Colinette Prism in Blue Parrot and if I remember rightly I only resorted to the second skein in the cast off row.

My son hasn't said yet what he thought of his present and I hesitate to ask these days. That is ever since the birthday when I thought I had got him something he would absolutely love. He loves wolves and I had found just the best wolf T shirt. When I saw him a few weeks later I asked him whether he liked it thinking it strange he had said nothing. Bear in mind we were in his flat and he had friends round. He looked strangely at me and said that he had loved the T shirt and that he had also loved it when I got him the exact same T shirt 9 months earlier for Christmas. At this point he produced the 2 identical T shirts thus confirming to his friends what he had probably been trying to tell them for years - that his mother was senile!
He bought us games for Christmas a racing game and flight simulator for Keith on the Game Cube and more traditional logical games for me on the Nintendo DS. Our dark side. How well he knows us.