Spinning
I am currently involved in 2 spinning swaps. The first is
Spin to Knit
and I received my first skein from my pal yesterday. 70 m of a lovely tussah silk in beautiful hand dyed pinks, greys and mauves with a lovely subtle sheen. I must find something special to make with this.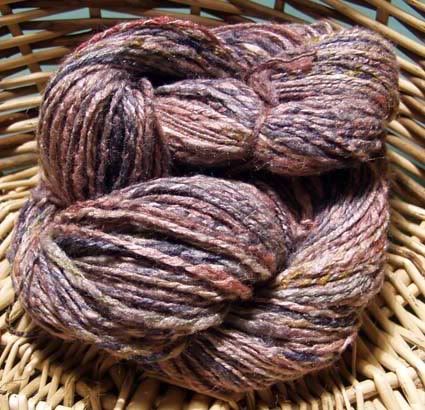 The second is
Spin me a Treasure
an international swap based in France. My spoilee is into natural colours rather than vibrant colours so this was my starting point.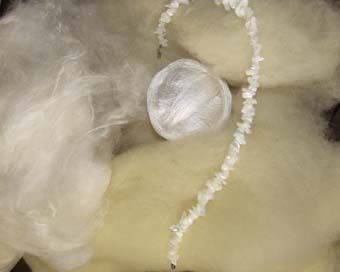 A creamy carded wool from local sheep. A mixture of carded kid mohair (from a friends goats), angora (from local rabbits) and silk. The ball is a very fine 2 ply silk and a necklace of mother of pearl chips. I intend to spin the fibres into quite a bulky yarn, possibly flamme and then ply with the silk 2ply threaded with the mother of pearl. Something completely new for me.
The result is slightly coiled which I quite like.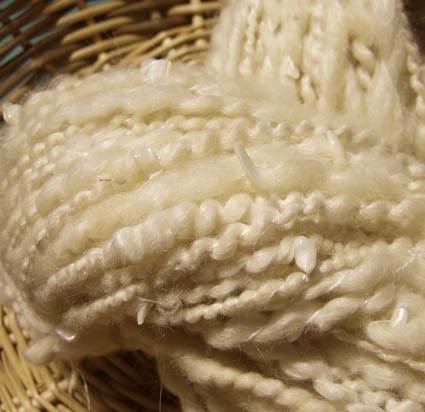 I wasn't sure how frequently or how evenly to place the mother of pearl so I went with every 30-120 cm roughly and tried not to make it regular. I was concerned that the beads would wear on the thread as I slid them down and it did in fact break twice. I just tied a knot and trimmed the ends and it hardly shows.
Getting back to Spin to Knit, this is what I have organised for my spoilee.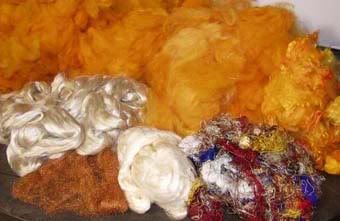 My spoilee likes orange and is very easy to please so this is my starting point. Orange wool (left), alpaca (middle), and mohair (right). In front from left tussah silk, trilobal shiny stuff in a copper colour, soysilk and recycled sari silk fibre. Time to get the drum carder out.
I have joined the Friday Night Spinners an will get the button up soon.

Here is some recent spinning.
The pink is local wool plied with a grey/purple mohair (my own goats)
The blue is shetland and kid mohair.