High winds and Lambkins
The results of last
Friday Nights Spinning
. Only about 25g of some merino roving I dyed. I have another 75g to go. This friday however I need to spin up the second skein for my
Spin to Knit
partner. Cutting it fine I know!

Last Monday I went for lunch with my friend Alex (the one with the alpacas). Back in September she rescued two abandoned kitties which I
blogged about
. You should see them now.


They are so beautiful.
True to form she had another waif in the house. A three day old lamb, one of triplets who wasn't thiving so she brought her in to hand rear.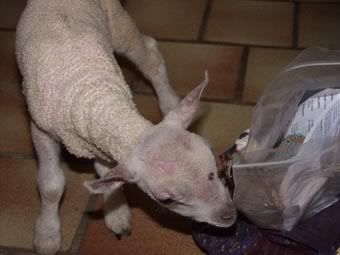 She was very inquisitive especially about the knitting.


But got tired very quickly.
This week has been very windy. In fact we apparently had a mini tornado pass by on Saturday night. Whatever the cause we were woken up about 4.30am when the roof canvas went woosh and flapped about for about 3 min. No harm done, we anxiously waited for the next blast for ages but it never came. The following night we heard what sounded like a sonic boom. When Keith went out to investigate with a torch he found the front of the house roof (which he had been dismantling) had slipped off taking the front wall with it.


No big deal as we were taking it down anyway and since Keith had detached it from the gable end no damage was done there. In fact it has fallen ideally as the majority of that wall had to come down to accomodate the entry of the electricity supply following the latest legislation.
The yurt is a bit smelly as I am dying on the rayburn. At the moment some kid mohair locks but later some mohair skeins from my LYS. They had some white mohair that wasn't selling so asked if I would dye it. I need to try and time these things and figure out how much actually goes into these tasks.