Cat Porn
Sorry if this is in bad taste. It is both funny and a bit tragic.

Fish, the alpha male of our little cat tribe, will be 8 this year. He was castrated at 6 months old. When he was very young he used to still have urges and though he never bothered the other cats he would try his luck on the fluffy feather duster (nicknamed Sharon), the fluffy doorstop (Doreen) and even stray balls of mohair yarn. To no avail, he might have the urge but could not perform. In time this behaviour stopped.

However a couple of weeks ago it started up again. He discovered the new sheepy doorstop (another Doreen obviously) and started pestering her.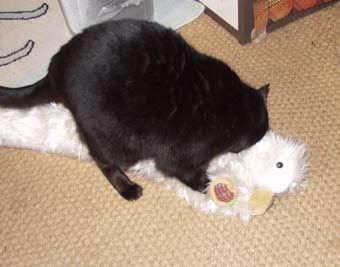 We would find her abandoned in the middle of the kitchen each morning. Lately he has even started pulling her out of an evening and attempting to perform in public.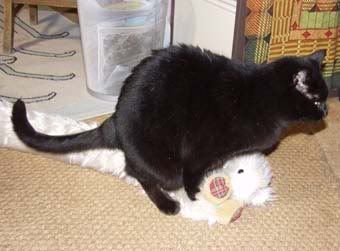 Although he was obviously not 'going all the way' I thought his own scent might be attracting him and stuck her in the washing machine. The glamorous clean new Doreen is still attracting his attention though.
So is this something I should be worried about? Maybe his lack of performance worries him? Or should I just leave him to his simple pleasures?
Labels: cats