Back now
Well I finally finished the Bristol City fingerless gloves for Conrad (not that he will be going to a match for a while). I sent them off with the bag I knitted for his partner , Caroline, and they got them earlier in the week. When I spoke to him he said Caroline loved the bag but he found the gloves 'scary'! Here I was thinking that handknits were all trendy again - well obviously not for some young men.




It reminds me of being at school when everyone had a commercially knit yellow jumper for hockey (now that is a vicious game) and my mum hand knit me one. I was mortified. I guess from some points of view it looks terribly old fashioned. I am relieved though that he is able to tell me without any beating about the bush. How many times have you bought some luscious yarn, picked what you thought was the perfect pattern, invested hours of time in a present for someone special; they thank you, make all the right noises and you never see the item again? Much better to knit for someone who will really want your gift (this probably means knitting for another knitter). Still even better would be if they gave you clues for next time like "that's nice but I would really love a ...". Trying to think up the right thing is the hardest. Still he appreciated the card I sent with it...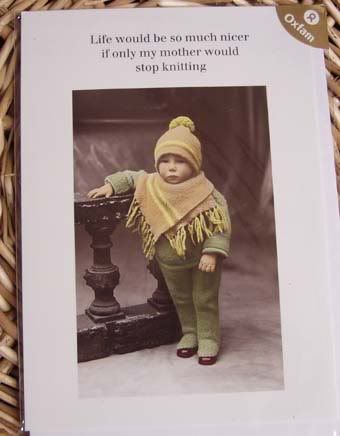 I hope Caroline wasn't just being polite.

I didn't get anywhere near finishing the sheep glove puppet for my SP so I made a knitting needle case instead. I love it. It was hard to part with it.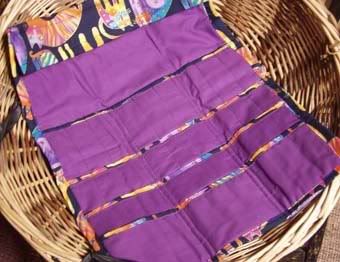 I used a cat fabric as my SP (who I want to reveal but it doesn't seem right until her parcel arrives) has just become a mum to two gorgeous cats.




I also dyed her up some sock wool as she is into fuschia and orange at the moment. This is 100% Blue Faced Leicester and so soft.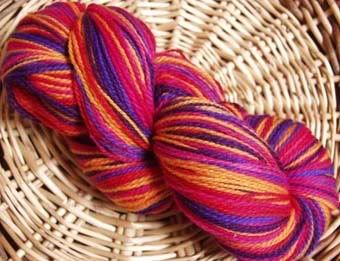 I decided to make a needle case for my dpns as I keep losing them. Even the cats love it.