UFO Olympics and Malabrigo Madness
I thought it might be a good idea to sign up for the UFO Olympics on Ravelry. My UFO's are starting to get a bit out of hand - 33 at the moment!

The object is to work on an unfnished project(s) for the period between when the Olympic flame is lit to when it is dowsed - 16 days. I have declared
Rogue
as my main event but hope to complete that and clear out some others from my list of WIP's!

For those who aren't familiar with the pattern, it is a hoodie with celtic cables trimming it. I initially started it year ago for my son's fiancee for her birthday at the end of August and knit one sleeve as a swatch. It fitted fine but then I got sidetracked...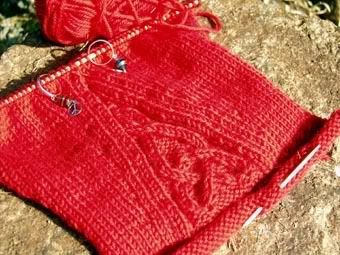 I started stocking Malabrigo a while back to sell at some of the fairs I go to. I thought it was about time I knitted up some samples so that punters can see what the yarn comes out like. So the other day I cast on 4 one skein projects.


Irish Hiking Wristwarmers
(which coincidentally is also the pattern for August in the Ravelry Mitten a Month Group)


Tudora
- a button up neck warmer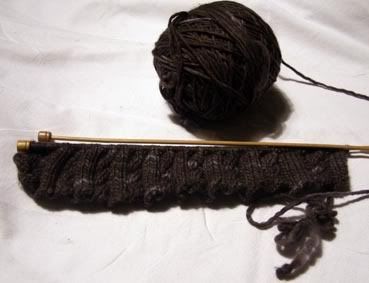 Hermione's Cable and Eyelet Hat - this is copy of the hat worn by Hermione in 'Harry Potter and the Half Blood Prince' due to open in November. It was reverse engineered from a publicity still by Jackie and made available on her
blog
.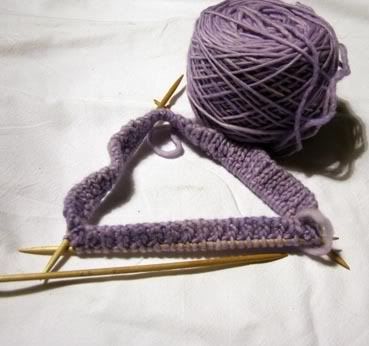 Dashing
- long cable fingerless gloves.



As if I didn't already have lots of UFO's .

I am also halfway through the
chevalier mittens
(February in the Mitten a month group) in gorgeous red malabrigo.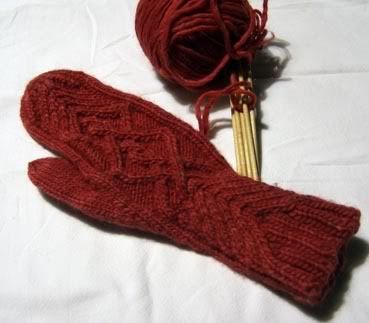 And I would like to make a bag - not sure which yet - in Stonechat maybe with some Colinette Silky Chic knitted in.


I am hoping my copy of Interweave Knits arrives soon as I rather fancy the
Dumpling Bag
I will endeavour to update my progress to my blog regularly as the next 16 days unfold.