WWKIP and Alpacas
Well I am off the pills completely now. The sun is shining. I am feeling creative and able to stay awake longer - I am even up by 7am these days. So apart from achey joints, unremitting aging, rising prices and world hunger things feel pretty good. Thanks for good advice given and hugs sent.

Yesterday was Worldwide Knitting in public day and we had an event locally in the Salon de Thé of Papillon in St Fraimbault (a local tourist attraction village because of the wonderful flower plantings). About 10 knitters turned up and we had a raucous knit in and tea and cake (very yummy rhubarb and apple tart for me!)

There was even another Raveller - Spinnerglors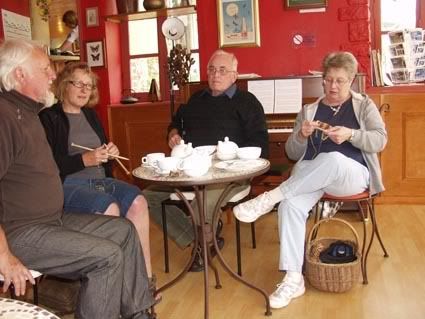 We even pursuaded Rachel, the restauranteuse, (is that a word?) to have a go - nice choice of colour, Rachel.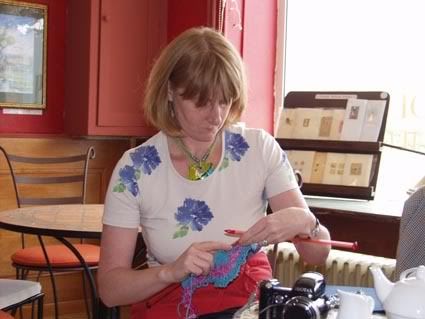 It was really great to see my friend Alex (who lives down the road with 13 alpacas) on weekend leave from the rehab hospital where she is staying for a couple of weeks after a stroke.
She has been knitting a ???? which has been growing organically...

Here she is trying out it's possibilities as exotic underwear.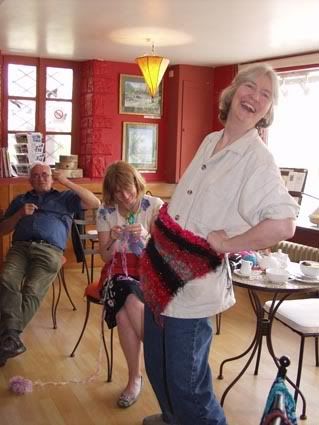 Actually it is cria season on the alpaca farm and Alex's favorite, Hermione, had just given birth to Ron a month early (yes there is a theme to the naming - there is a Lupin as well). So we went there afterward to ogle him.

Poor darling.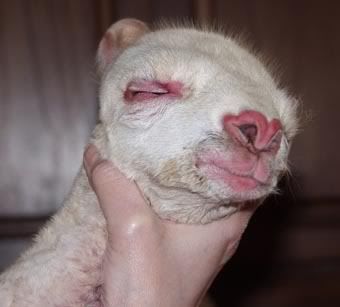 His legs are so long, and thin as matchsticks.


He is spending most of his time under a heat lamp at the moment.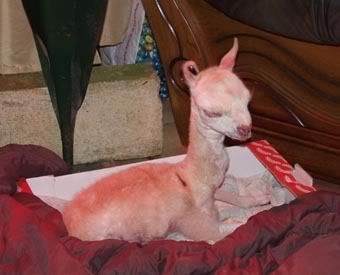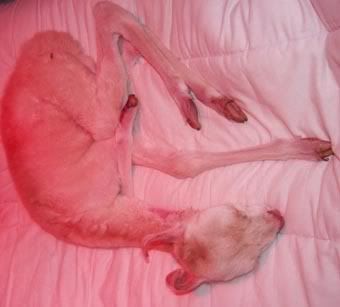 I will keep you updated on his progress.
Alex's husband, John, has also been shearing and I have reserved 2 alpaca blankets, just need to save up now.