Where did those ducks go, - oh and yes the days as well?
I seem to have not blogged for ages! I spend lots of time on Ravelry maybe that is why? On the other hand I am not sure where February went to. I seem to have had an inordinate number of little illness but thinking about it today it could all be attributed to the big M (hot flushes, tiredness, headaches etc) If so let it get over with quickly.

At the moment we have sick goats, but I dosed them for worms and liver fluke today and hope that will do the trick. We recently acquired a male in the hopes of little kids this year before our ladies get too old, but he doesn't seem to have got the idea yet. There have been preliminaries but believe me you do not want to know what passes for erotic to goats!

We also 'lost' a duck and 3 chickens, suspiciously soon after a hunter passed by one evening... They are free range and tend to wander in the neighbouring fields so from that point of view they might seem fair game, I suppose. A friend gave us another 3 ducks who hung around for a few days before flying off! One flew back a couple of days after but there is no sign of the others. I know we shold clip their wings, butyou have to catch them first and so far they have proved cleverer tan me. Our one original duck is now hiding away sitting on a clutch of a dozen (unfertile) eggs. We are going to get some fertile eggs and sneak them in. Well that is the plan anyway.

So, and on to knitting. I finished my January Ravelry knitalongs. 2 pairs of Tweedy Mittens, 2 pairs of socks and a January is for Karen scarf.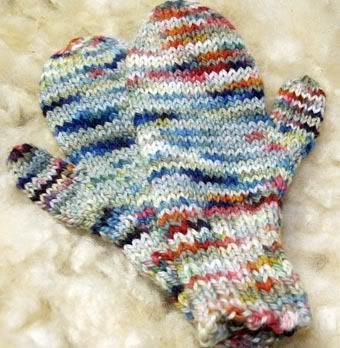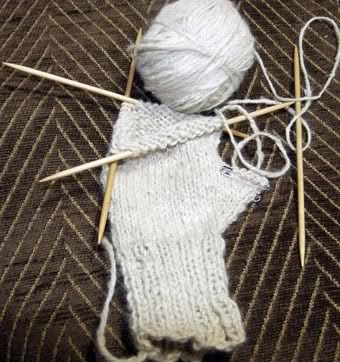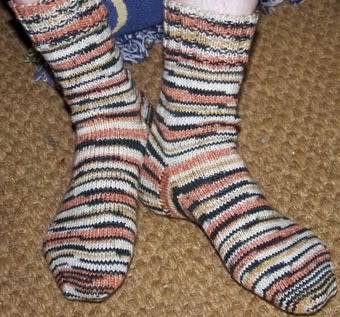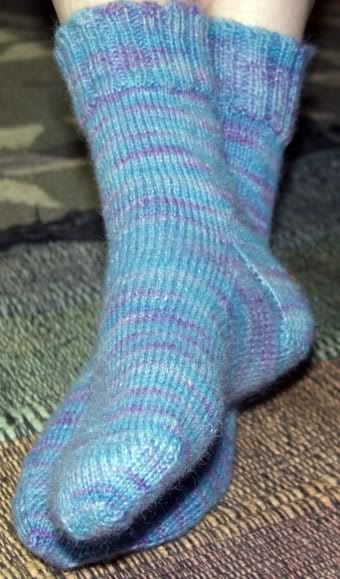 I have started on my February projects but am way behind. A pair of socks in Opal Silk that was supposed to be for me but turned out too narrow (swatch ? What's that?) so Keith will get another pair, therefore I also started another pair for me in Lucy Neatby Celestial Merino in FieryFuscia. I am doing the Chevalier Mittens for the 2008 Mitten a Month Along in Malabrigo Worsted in Vermillion and the February is for Damejain in Jaegar angora. Well I need to get a move on, especially as I have a birthday present to sew this week too.

The really good news is that my son had his bone marrow harvest last week. It sounds pretty gorey doesn't it? It wasn't as straightforwad as it was hoped but it is over with now so no point in dwelling on the cringe worthy details. He now has his insurance banked so if he ever needs a bone marrow transplant in the future he has the best possible donor - himself. Hope it doesn't come to that though.