Where to go from here
The cough lingers... and I have succumbed and recovered from a headache and sickness bug too. Well anyway that is my excuse for being a rubbish blogger. Does anyone else find that putting projects on Ravelry means you feel less urgency to blog about them? However some things can't be properly expressed on Ravelry. One is thank yous to wonderful people like the bountiful Lorena from Hanks in Florida. She was my SP8 and a couple of days ago a parcel came out of the blue to brighten a dismal, grey day.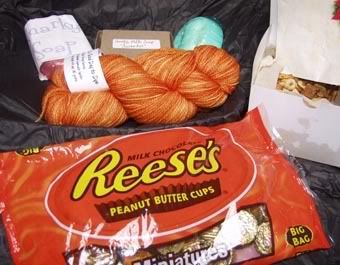 Isn't the yarn gorgeous? The soap (which I think Lorena makes) was heavenly and scented the entire package - Lavender, Nag Champa, and Oats and Honey. The edibles are long gone, I took the Tex Mex to knitting club where everyone wants the recipe and I am embarassed to say that I was solely responsible for the demise of the Reeses's Peanut Butter Cups (my favorite). So my diet is not off to a flying start but at least the temptation is out of the way now.
Other good news is that my son and his partner have decided to tie the knot. He proposed on Christmas Day and they picked up the ring last week.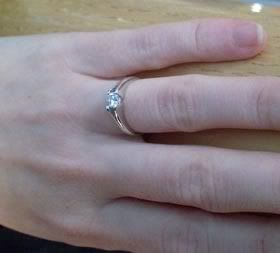 No day set and it is certainly not imminent but it is commitment, and of course brought a tear to my eye.
I have been doing mainly litle projects, socks and mitts and some spinning lately.
I finished the Opal Tiger socks.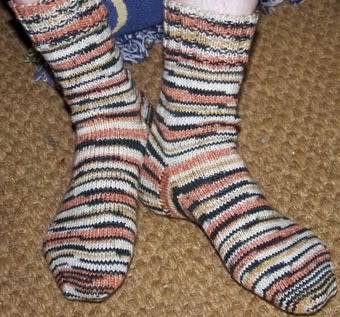 I really like this yarn to knit and it is so hardwearing. Unlike Colinette Jitterbug which I have been very disappointed with. I loved knitting it but after 2 months and half a dozen washes they are now unwearable. They felted badly, the colour is still running and they are full of holes. I will try to remember to post before and after photos next time.
I have finished the Tweedy Mitts for the Ravelry 2008 Mitts a month group and started another pair as a late Christmas present for my friend Alex. She generously gave me the blanket of one of her alpacas, Bertie, so I have spun some straight from the fleece without carding and am making her some mitts.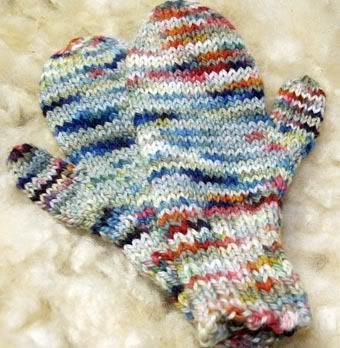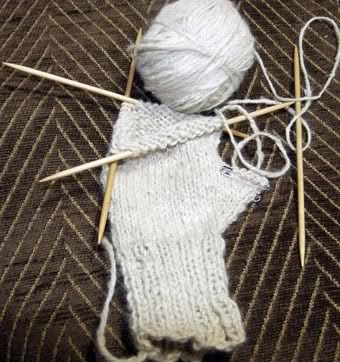 I am always losing mitts so made myself some cactus mittenettes in Colinette Prism in bright red Mardi Gras. This is one of Sylvie at Chez Plums patterns and she has a competition ending soon for people who ave knitted her patterns and send her photos.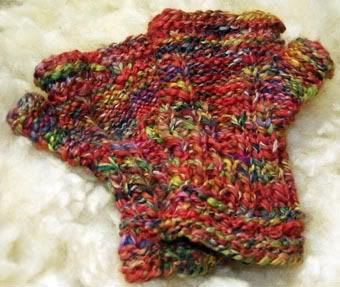 I haven't made any real NY esolutions except to finish the things I put on the 2007 list! I am trying not to cast on a new project unless I castoff two until I get my UFOs under control. I have been giving some thought to how to go forward with my small yarn business though. Ihave quite a lot of stock to dye up and I have a stand booked for Wonderwool Wales but I really need to shift stock I have had for a while.
Towards this end I have started putting Opal sock wool in my Etsy Shop at discount prices ($11 for 150g 6ply). I have very large stock of Colinette yarn and will be either putting them on ebay or Etsy (I am a little wary about putting too much by way of commercial supplies on Etsy as some people get upset) but will probably post on ths blog and Ravelry to give folks the opportunity to benefit from dicount prices beforehand. Prices will range from £3.85 a skein for Pt5, 1.0, Shimmer 5, Silky Chic, Firecracker and Zanziba to £4.75 for Tagliatelli and Giotto. I also have Enigma, Athene, Fandango, Prism, Skye, Mohair and Chrysalis. I will do a post with colours, amounts and prices in £, $ and euros and postal charges very soon. I am getting very short of room so I really need to rationalise stock.