Competition winners
I have had a busy week and neglected my blogging (slapped wrists). Even though I haven't given the results of the competitions I have notified the winners and their prizes should be well on the way by now.
Firstly the draw for the short fat needles and homespun went to
ikkinlala
who belongs to a group blog. There were lots of ideas for what to do with them. Emm had an actual real use for them, knitting the very crown of hats. A few mentions for chunky i-cord and shawl pins which was my personal favorite.
Well how much sock wool could I fit in this basket?
Lets open it and see.


First out the Opal - over a kilo of it.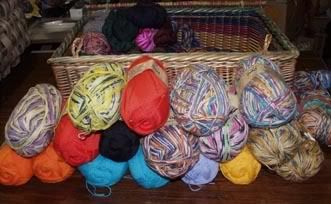 Then the Jitterbug.


Then Cherry Tree Hill, Celestial Merino, Knit Picks, Regia and individually dyed stuff from swaps.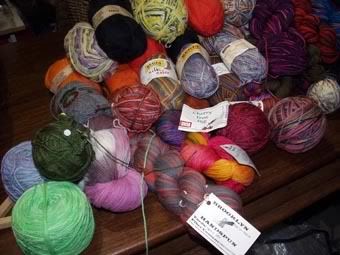 In total 4,613 grams (163 oz). Apart from the guess of 1900Kg which I hope was a mistake, the highest guess was 4,900g from Kelly. It was the closest. So some Cherry Tree Hill and Tri'Coterie sockwool on its way to her.
This summer was so diabolical weatherwise that the only thing that survived the wet, cold and slugs was the leeks. One of the casualties was the Class A Catnip we had brought from the UK and nursed through 3 winters. Luckily I had collected seed and planted it all. It took ages to germinate and we finally got it going and brought it in before the first frosts. Of course it has a natural predator and 2 of them finally discovered it. So this-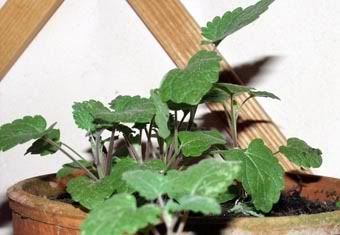 becomes this-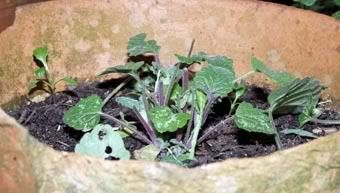 and one blissed out cat. Luckily this one will survive, unlike the other one that was eaten roots and all!

So what has been occupying all my time? Getting organised for the annual Euromayenne Christmas Fair. Simple knitting patterns produced in English and French and samples knitted up. Miles of novelty yarn cut, tied, and reskeined. A successful day though and a nice space for my stall. Looking at it I don't know where I fit everything at other times!