Manyana
Well they say the road to hell is paved with good intentions and honestly it has been on my mind to blog and to catch up with all those great folks who have given me helpful advice. But something always seems to come up. Currently I am drowning in a sea of novelty yarn (I know that sounds like a nightmare to most but there is a reason )- explanations next time.I have also been conducting roof repairs with a domestic sewing machine (sounds surreal eh?)- this has dragged on so long it is doing my head in - photos next time.
In knitting news I finished the
Branching Out
scarf in the Malabrigo laceweight that was gifted to me by
Emm.
It is the most incredibly soft scarf I don't even know I am wearing it. My only reservation is that it has a tendency to fold lengthwise down the middle despite blocking and even ironing. Have others found this? A friend suggested that doing a couple more stitches of stocking stitch in the middle might solve it. What do you think? If I could sort this problem out I would definitely knit this again.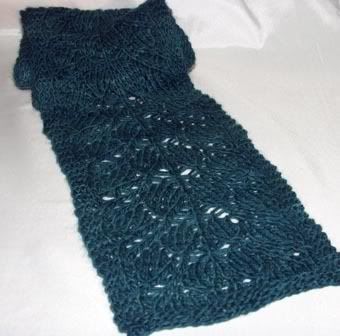 Having finished the Jitterbug socks I embarked on a pair in 6 ply opal for Keith. These are actually finished now, pics next time.


Being on a roll with sock knitting I have my eyes set on
Pomotamus
when I feel up to it but I think I need to practice a bit more first. I had a delivery of Tofutsies last week so swatched with this in mind. So far I love the yarn, it is so silky.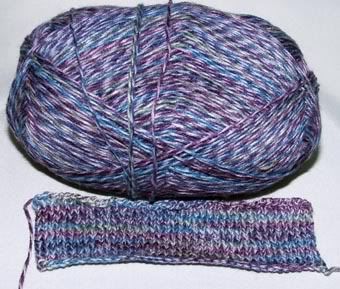 One of my targets this week is to list a load of Opal and Tofutsies in my Etsy shop so watch this space as I will be running a competition to celebrate actually managing to do that... (ok I'm pathetic at admin for myself )
This mess is the beginnings of a
huggable hedgehog
, I remain a little sceptical.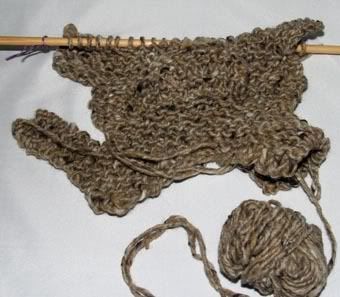 Other targets for this week? I have 2 pairs of long fingerless mitts half done that I want to complete. Firstly a pair in SWTC Soysilk. My own design using the Isabeau lace pattern used in the tote and shrug on
Chez Plum
.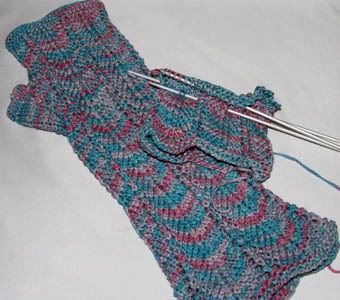 Secondly a pair using some frogged Colinette tagliatelli in colourway Jamboree. Again my own pattern but I am using needles much smaller than those recommended to give a dense velvetty texture.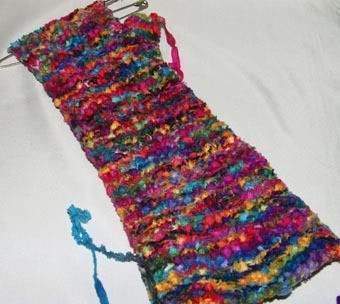 I am hoping to get at least one UFO disposed of, either by completing or frogging each week and will post my progress to keep me on track. Anyone want to join me?
I hope to post again soon to show you my haul of new DPN's and a little competition to liven things up. Stay tuned.