And we have a Winner!
Well actually two. We will come to that in a minute. Gratuitous kitten photo first. I am feeding a friends cats down the road while she is visiting her son in Denmark. She asked me to also keep a lookout for a wild kitten she had seen around her barns. Is she going to get a surprise when she gets back!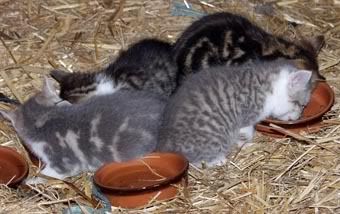 They are so adorable but so many stray kittens appear here because they don't have a culture of neutering. This will make 7 abandoned kittens that she has found in her barn in the last 2 years. It becomes impossible to find homes for them. Who knows what their destiny will be.
Gratuitous flower picture now. The sunflowers are only just blooming now - those that escaped the slugs.


Well on to the competition. Thank you all for the really useful feedback I will go through all the points in my next post and start implementing them straight away. When I have done that, say by Halloween, I will run another competition so come back and visit again.
I tried to pursuade Fish to get off his paws and pick a couple of numbers but he was quite comfortable and didn't see why he should. So I asked Keith and a visiting friend to make the draw.
The winners are
Yvette
who will be receiving the roving and
Alice
who will be getting the lace yarn. Email me please at

maylin

DOT

tan

AT

tiscali

DOT

fr

so that I can get on to that. I will visit everyones blog who commented during the week too.