FO's and a Competition!
I was amazed at how quickly I finished these socks and how comfy they are - I feel so proud of myself. I have already rummaged through my sock yarn stash to start another pair. I think I might try working through Lucy Neatby's book 'Cool Socks, Warm Feet' I reckon I should have a good grounding in socks by the time I finish all six.
Yarn Colinette Jitterbug in Jewel, 2.5mm dpns, pattern (which had a bad mistake in it) on the ball band.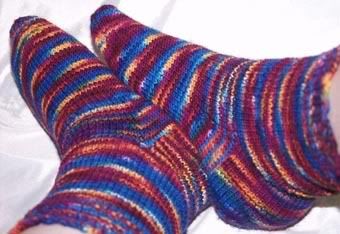 I also finished the 'So Called Scarf' I think this may be destined for a Pal, maybe I should try and make some gloves or hat to go with it.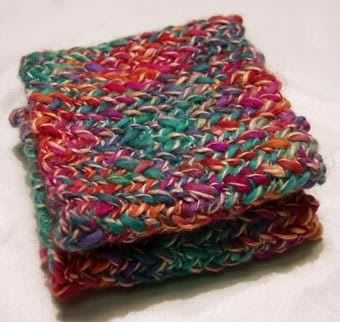 A few days ago I restocked my Etsy shop for the first time in months. I have lots of yarn to dye up so thought I had better get on with it. I still have other stuff to put on - stitchmarkers and such. To celebrate I am running a competition, with 2 prizes at present, more if lots of people take part.
Firstly 1200m (100g) of Laceweight Bluefaced Leicester. This is gorgeously soft a single ply 90% bfl and 10% nylon to give extra strength. It is kettle dyed and then handpainted in shades of red and purple with little bits of orange.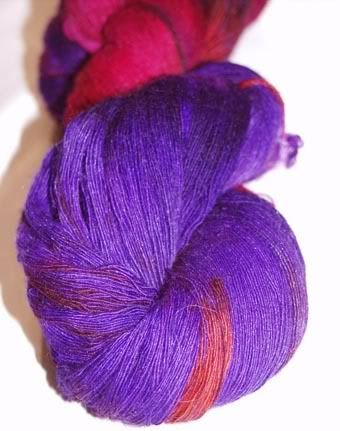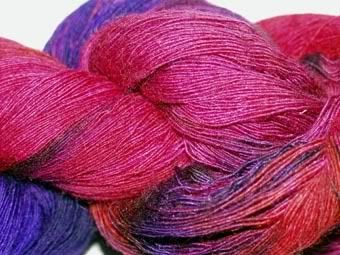 Secondly just over 100g of 100% Bluefaced Leicester tops to spin. This is in two complementary pieces. One is purples and mauves the other similar shades with the addition of shades of orangey peach. This is so soft and lofty you just want to cuddle up to it.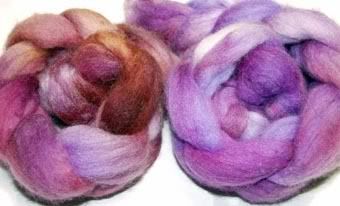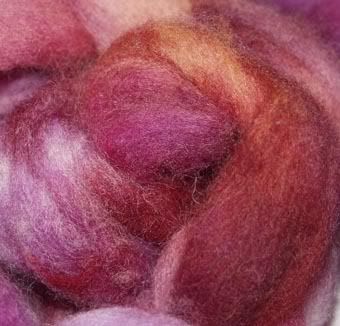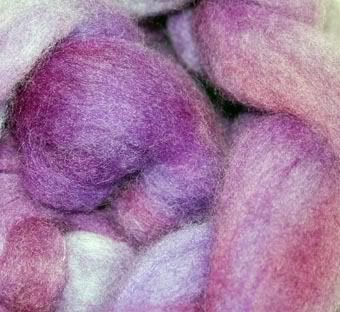 So what do you need to do?
Mosey on over to my shop
Tri'Coterie
and check it out then leave me a comment before 6pm GMT on Sunday 7th October. In your comment please leave feedback - the more constructive the better. How can I improve my shop? What yarn weights, colours would you like to see? What sort of photos are best? Am I describing the stuff sufficiently or would you like more information and if so what sort? There must be 101 things that would improve things and don't worry about repeating what someone else is saying - if it is said enough times it might get through my thick skull! After time is up I will put all the names in a hat and see if I can pursuade one of the cats to draw (well ok - maybe something with hands).