It feels like Christmas!
Just look what arrived in the post!!!!


I thought this must be the late birthday present my brother has been promising me, but no, it is from my Secret Pal!!! Isn't it wonderful. It has really brightened up a dreary day, full of fabulous ideas. I don't know where Nicky Epstein finds the time do all that knitting, have all those ideas and write so many wonderful books. I love it, love it, love it. Thank you Secret Pal.
In knitting news I finished the first sleeve of Rogue and blocked it to see if the guage was going to work.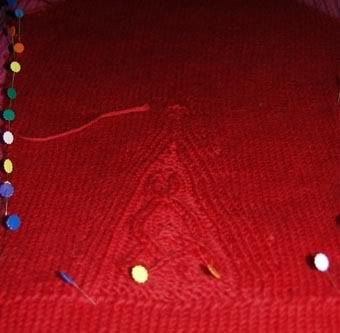 Well is it? Well actually I don't know yet because after it dried I unpinned it to let it relax before measuring and Jenkins hasn't got off it since. He likes the ironing board - it gives him a good lookout at where all the other cats are.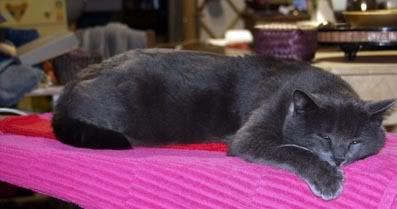 I also had a sudden urge to knit some sock, since my SP9, Lorena, convinced me of the delight of hand knitted socks I have been acquiring a modest sock yarn stash. I used a hank of Colinette Jitterbug in colourway Jewel and decided to use the pattern printed on the inside of the label. Bad idea. Everything went well until I turned the heel and ended up with this...


A rather narrow heel and only 8 stitches on the needle when there should have been 16. For the veteran sock knitters amongst you here are the offending instructions.


However I am a mathematician (do you like the air of confidence I wrote that with?) so I set about a few calculations based on the fact that I wanted to end up with 16 stitches and replaced with this;
k21, ssk, k1
sl1, p13, p2tog, p1
sl1, k13, ssk, k1
repeat last 2 rows until all heel stitches are picked up.
That seemed to work, I am ready to graft the toe now, then on to the second sock.
Here's a cute photo to end with. Our cats generally give each other a wide berth but recently Marge and Fish have taken to cuddling up together, it's so sweet.