What a F**king liberty
You have heard me moan about the onslaught of the slugs demolishing all before them in the garden. Well outside is one thing. My bookshelf is quite another. I discovered 2 slugs procreating attached by a cord of slime to my treasured copy of Unexpected Knitting! So much slime. So much grossness. I was traumatised all evening!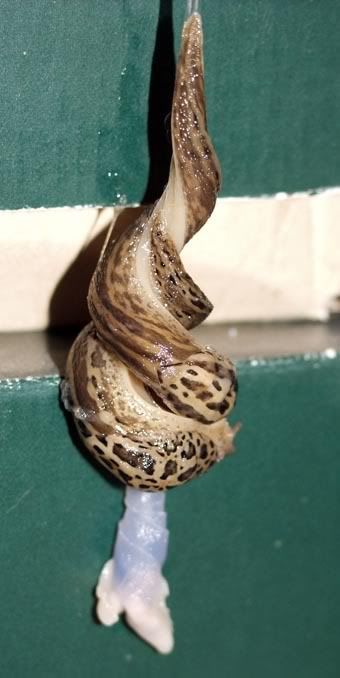 It's obviously an insect time of year as I found these previously unseen-by-me caterpillars looking like they were in black leather and consuming only nettles. Carry on chaps!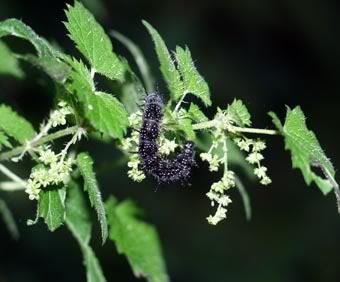 Autumn is galloping upon us and the goats have been greedily eating the fallen pears. They are so funny to watch as they select ones to go in their mouths whole, then toss their heads back and roll the pear around their mouth until they can get started by getting the first bite in (life is hard without hands). Afterwards they smack their mouths and lick their lips - they are hilarious.


I had 2 great parcels from Fyberspates this week. Never mind the yarn, our biggest cat, Fish, would like to say a big thank you to Jeni for sending him the lovely paper bags to get in. As soon as they were empty he got in and stayed most of the day. He loves getting in bags and boxes even ones patently too small for him. When I make the bed in the morning (well usually the morning) he waits until I shake out the bedcover that goes over the duvet, then dives under (as in a parachute game) and will sometimes stay all day there.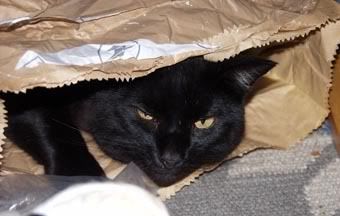 Last Sunday I went to my first french birthday party (Elfie's - the daughter of friends) - what well behaved children. No feeding frenzy ripping open presents but everyone watching and complimenting each other.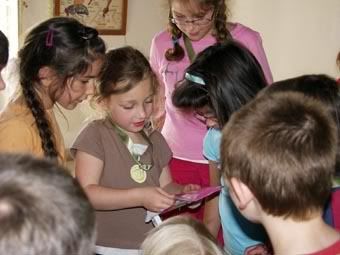 Lots of party games too including a treasure hunt.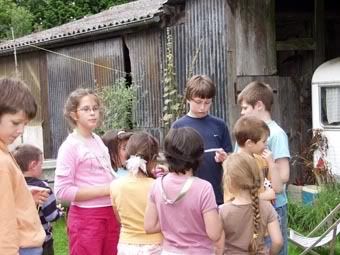 I did a market stall in aid of a local animal rescue last weekend. I dug out my stash of around 200 silk shirts. I originally bought these from a fabric recycler with the intention of cutting them into strips and knitting them. I have ended up selling a lot though, really cheap, as they seemed too good to cut up. I've had them for years now, though, and they are getting more and more creased (well I'm not going to iron 200 shirts am I?) so I think it may be time to implement the plan. Before I do if anyone has a hankering for a silk shirt let me know what colour and size you would like and I will see if I can help out. email maylindottanattiscalidotfr