Yet another Competition
Before I tell you about the new competition don't forget to check out my previous post which also has a competition that ends midnight on Halloween.

Firstly I wanted to brag about my wonderful brother in Seattle. He felt that he had been a bit behind in birthday presents lately and asked what I would like. Non knitters are always perplexed when you say yarn but he rose to the challenge.
There are so many nice yarns that are either unobtainable here or much more expensive than in the States. One of these is Lambs Pride Worsted. I paid £5.99 a ball for some at Ally Pally last year, but found a US site selling a few colours at $3 a ball (yes really a mere £1.50). Do check out
The Sheep Shed Studio
. Well my brother, Gareth, gave me a spending limit to choose stuff then ordered it all and paid the (somewhat high) international shipping charges and I got this wonderful package.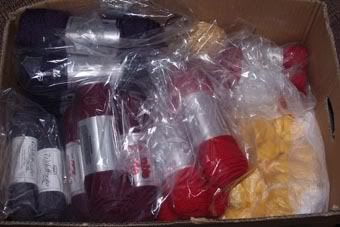 I don't know what was more fun, picking all the stuff I wanted (and I went way over budget) or opening the parcel. It was like getting a present twice. I don't know why people have a downer on giving tokens it is so much fun shopping. Well what about the contents I hear you asking...




Lambs Pride Worsted, 9 skeins purple, 7 skeins red and 7 skeins garnet, plenty for 3 jumpers or cardies.




Wildefoote sock yarn 3 skeins Blue Blood Red and 10 skeins Tom Cat Grey. (I had hoped this would be the right colour for a Hogwarts jumper but it is marled. Why is school grey such a hard colour to get these days?). I am just swatching the grey at the moment.




Cotton Fleece to try - a skein each of yellow and kelp green.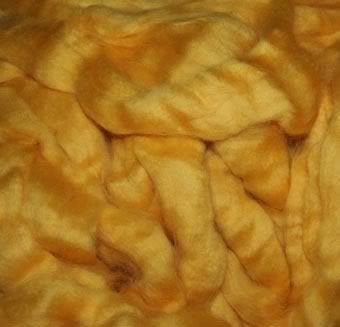 2lb of superwash roving in saffron yellow. Scrummy.

Also not photoed 2 skeins of 6ply Waverley yarn in Rusty Red which have already become 2 pairs of socks! Definitely recommended for thick socks.

So how lucky am I?

Well it is time to share the love around. Also I feel like Halloween is the spiritual birthday of this blog (Tricot Treat - Trick or Treat, get it?) so here is a little competition.

I am a new sock knitter but even so I have a little stash of sock yarn ready to knit. Apart from the stuff my brother recently sent it all fits in here.




The pins on top are 9 inches long to give you an idea of size. I am not saying how full or empty this basket is but there is some Cherry Tree Hill, some Opal, one skein of Celestial Merino...

So if, before midnight on Halloween, you leave a comment with the closest guess as to the weight of sock yarn in the basket, you get to win something from the basket. Guesses can be in ounces or grams and should not include the weight of the basket. Good Luck.