Sock obsessed and a Competition
Personally I blame
Lorena
. While she was my SP9 she made me my first pair of handknit socks. She also gifted sock yarn - Socks that Rock no less (and Cherry Tree Hill) and I knit my first pair of socks. Since then I made a pair in a weekend for Sock Wars and then forgot about it. Recently though being tempted by some Colinette Jitterbug I made myself another pair of socks and haven't looked back. I finished the Opal Socks I started for Keith (click for other views).



Powered by GoodWidgets.com



I then decided to try 2 toe up socks using the magic loop. I used
Silvers
excellent tutorial.




I even finished them!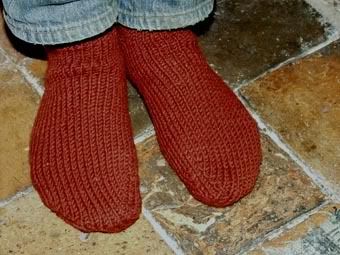 There was enough yarn left so that I could make another pair and I have finished one of them. Now he doesn't want to wear any other socks!

While perusing my novices sock yarn stash I was admiring this colourway when I realised it was just the thing for the
Woodland Shawl
that
Emm
blogged about a couple of weeks ago. It is a nice repetitive pattern and I've hardly had to tink at all. The pattern follows well from the line before.




A close up of the stitch pattern.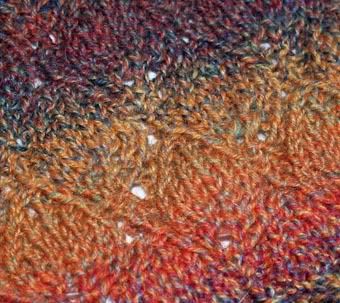 I said in the last but one post that I was up to my eyes in novelty yarn. Here is Marge trying to look pretty amongst it all. I have had an occasional stand at fairs but it seems like all everyone wants to buy is novelty yarn for scarves. I am pretty fed up with it now though and I think the craze is about to decline (we are about 2 years behind here). Well the most popular type at the moment is a large skein made up of a few metres of lots of different yarns tied together. So I have pooled all the novelty yarns and am skeining up lots of this type of yarn - much better value than the shop ones. I am hoping to be able to recoup my capital on these this Christmas and reinvest in more white yarn to dye for next year.


Powered by GoodWidgets.com


Like
Woolly Wormhead
I have been buying bamboo needles on Ebay. I got 12 sets of 5 Dpns of various sizes in 9inches and the same 12 sets in 5 inches. Considering I only paid 99p plus £9.50 p and p for the lot I think the quality is pretty good. The tips are nice and there are no snags on them. I think with usage they will get even smoother. The thing is I quite like 5 inch dpns for fingers on gloves etc but by no stretch of the imagination could I envisage using them in any size larger than 5.5mm.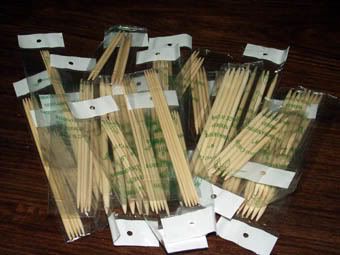 So does anyone want the surplus needles? There are 5 inch dpns in 6mm, 6.5mm, and 8mm and a set of 9 inch dpns in 8mm. Just leave a comment with any use you can think of for very short fat needles (try to keep it clean) by Halloween and I will draw a name from the commenters to see who I will send them to. I will include some handspun and any other goodies I have lying around too.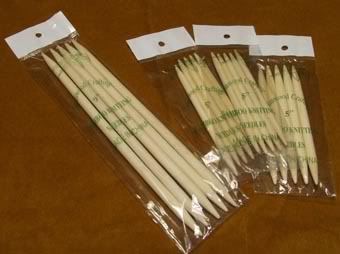 I will also be updating my
Etsy shop
soon with Opal yarn and Tofutsies. When I have done that I will run another contest (sock yarn as prizes obviously). So keep an eye out.