Where does the time go?
I feel like I am running around chasing my tail at the moment, but if you asked me what I have done, I would be hard pressed to tell. However I have spent the best part of today trying to figure out why my internet connection was cut by my ISP. It turns out they added an extra 99 euros to my monthly standing order, my bank refused (and of course charged me for the privilege) and Tiscali cut me off. It turns out I hadn't returned a faulty modem because they had told me not to send it to the address that was on the return label and I thought they would send me a new prepaid address label. They didn't and I forgot all about it. Then out of the blue... no internet. Why is life so complicated? So then I had to compose a scathing letter and get a friend to put it into scathing french for me.

I just want to knit and events are conspiring to stop me! However I have finished the hat to go with the pair of
Fetching
for my SIL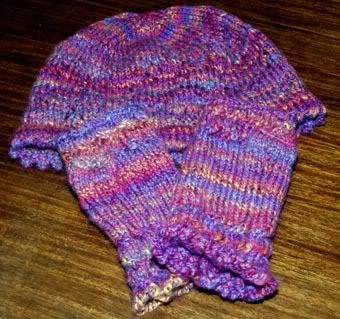 The handspun is three ply that I dyed as roving, part superwash merino and part Blue Faced Leicester. Lovely and soft and silky. The hat has a little repeated lace motif, the pattern is from a Twilley's Freedom booklet and I adapted it to knit in the round. So one more thing crossed off the Christmas list.

I also have another pair of socks nearing completion with some of the yarn my SP11 sent me.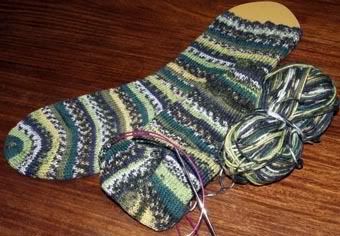 I have spent an inordinate amount of time this evening listing DVDs for sale on
Anglo Info
and ebay, in an attempt to declutter and make a bit of cash.




Labels: socks handspun