20 muddy paws and my carbon footprint
It feels like it has been raining non-stop for at least 2 weeks.

Incessant rain + 5 cats = 20 muddy paws. I would knit them socks but they would only get them muddy and try as I might I can't get them to wipe their feet when they come in. They always look so hurt as well if they jump on you with cold wet paws and you act less than welcoming (this is usually when you have just changed to go out or put your pajamas on etc)

I have been to the UK for 5 days to see my son. It was such a relief to see him looking so well after seeing him last with his hair falling out in hospital. He has finally had an all clear on his molecular test. Once he gets another all clear they will harvest his bone marrow to store against the eventuality that he will need a transplant in the future.

I am glad I went but I have had to salve my conscience about my carbon footprint as I flew with Ryan Air. They started flying into Bristol (where he lives) in November and I managed to get a return flight for £20 (including airport tax and baggage fees). The ferry would have been nearer £200 and a complete no-no.

As a move towards offsetting I am making a determined effort to not use the electric kettle which I have a tendency to do despite the rayburn being lit. So I only use it a few times a week now first thing in the morning and make sure I only put a cupful in. Of course I should have been doing that anyway. I was also told that eating less meat has a dramatic effect on reducing ones carbon footprint. I haven't eaten any for 3 months as part of an anti arthritic diet (which is working very well) so I feel a bit better about flying and might consider it again next year. It was very quick and much less of a strain than the long drive and ferry crossing.

I have been very bad about blogging lately but spent quite a lot of time in Ravelry updating projects etc. So here are some FO's


Flower Power
hat for Finch who has now gone back to Toronto.
Cabled beret for his mum Amy. I think the pattern was called Pumpkin and is a Twilley's Freedom pattern that was in Knitting magazine a couple of months ago. I made it in some chunky yarn from Ally Pally and knitted in the round on 8mm dpns.


A felted hat that was destined for me and stolen by Keith, in 2 skeins of Noro Kureyon. An improvised pattern consisting of a doubled over 'cuff' knitted as a rectangle and sewn to a crown.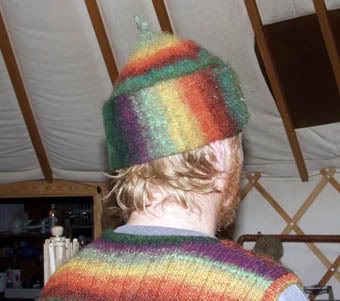 The doomed Gryffindor sweater. I have some DK yarn now and have borrowed a knitting machine to try and complete this (sacrilege I know but needs must...)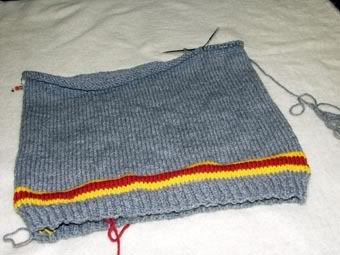 Fetching
in my own handspun. I have completed this and started a hat to go with them. Pictures next time. Also a pair in Debbie Bliss Cashmerino. I needed to use a little contrast yarn as I like a few more rows on my version.


Dancing Poppies scarflette
in handyed aran weight silk.


Woolly wormheads cabled cap
in alpaca. I finished this ages ago but made it too big and was to lazy to frog and reknit. I bought some shearing (spelling?) elastic and threaded it round the brim. Fits ok now, but is very warm!