Wonderwool and stuff
I am getting so sloppy about blogging - I must do better than this!

I can't even remember what I have mentioned and what not so I hope I don't repeat myself (I do that a lot - it's the creeping senility).

It's been a bit of a scary fortnight. My friend Alex who some of you might remember keeps alpacas had her 50th birthday a fortnight ago. 3 days later she had a stroke. She is in Caen hospital at the moment, and after a couple of setbacks appears to be recovering well. Her husband, John, has been left to care for the animals including the 13 alpacas with 5 more on the way! Here is a phot from about a year ago.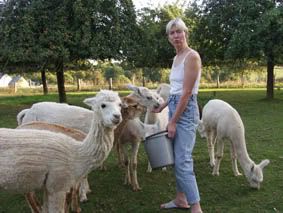 I have been busy knitting mainly socks. these are a (late) birthday present in Opal Silk.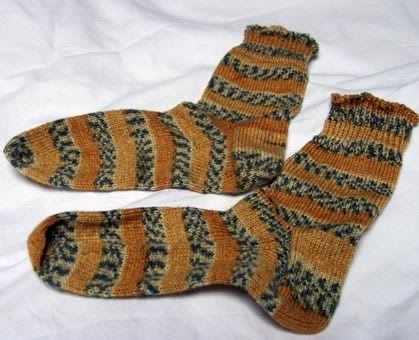 I seem to have knitted a lot of socks lately, not sure I have photographed them all.
I finally get it about sock knitting; after years of saying I don't see the point. It was finally drummed home when I was visiting my friend Sara when in the UK (otherwise known as the mad cat woman of Doulting). I had knitted her socks for her birthday (3rd April) which in a fit of efficiency actually got to her on time. When I saw her on 29th April she confessed that she hadn't worn any other socks since getting them as she loved them so much.

I have just posted her another couple of pairs so she can wash the first ones!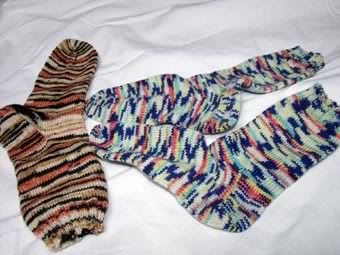 No longer is the hand knitted gift received with false gratitude and consigned to the back of a drawer, but actually sought after.

Much as I love the 100% wool sock yarns I have knitted for myself I am not sure it is worth the trouble as I seem to wear through them so quickly (Colinette Jitterbug was the worst - lasted less than half a dozen wears). In contrast the socks I knit for Keith out of Opal and other yarns with 25% nylon go on and on. However I have some new yarns to dye - Merino/Tencel and Merino/Bamboo so will give them a shot.

I have been experimenting with very long and very short dyed stripes but still need to work on technique as especially the long stripes (think Noro Kureyon) are so time consuming. The short ones that work out like ikat vertical stripes need tweaking to get them just right. They will tend to spiral which is ok unless it is too tight a spiral which ends up like horizontal stripes or the pattern disintergrates altogether. Thats ok in both cases, - the effect is still nice, but I am aiming for a bit of predictability.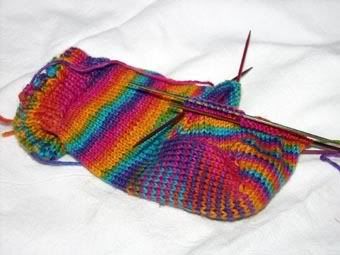 My son (who continues in good health - thanks to all those who asked at Wonderwool), has bought me the domain name
http://www.tricoterie.com/
and is hosting it on his server so I want to try and get a site up and going. Tri'Coterie is the name I use on Etsy since someone else uses Tricot Treat and at present the site just takes you straight to my Etsy shop, which only has Opal in at th moment.

Wonderwool was a blast, I was rushed off my feet to the point where I had to miss the Prudence Mapstone workshop I had booked. That was a shame but I am not complaining. I cleared the majority of my Colinette Yarn. I mostly have Firecracker, Silky Chic, Fandango and Mohair left which I must get round to putting on my Ravelry trade pages. I might do a throw with some of it though.

After talking to
Jeni
and
Amanda
via their blogs, and in person, at Wonderwool I have made a decision to try and start out on my website with yarns that I feel ok about ethically and environmentally. As I am not brilliant about researching all that stuff I am indebted to them for all the time they have put in to it. Having met and talked to them I am happy to trust their judgement. Hence the decision to clear out the Colinette. I am not saying they are unethical, just that I have no idea where their yarn is sourced. I was unhappy about the way they treat people though and the many reports (and my own experience with Jitterbug) of colours running. Instead I am stocking Malabrigo - yum yum. This is a small family run concern where the yarn is handspun and dyed in Uruguay. Tobias, who runs it, is active on the Ravelry forums and I feel confident that I could approach him about any concerns.
This arrived a couple of days before Wonderwool.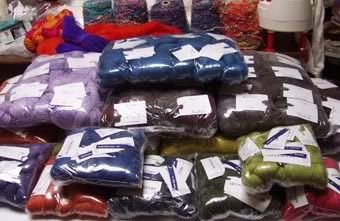 For my undyed yarns and fibre I am at present only using
http://www.bluefaced.com/
(who has just about anything you could desire anyway) and some merino tops bred in the Flaklands (virtually organically) and processed in the UK.

Starting from this base I can then branch out from there as and when. On verra.

One of the things that struck me being in the UK was that although food etc. was more expensive there was an abundance of 'stuff' incredibly cheap. Clothes and household stuff in supermarkets for instance. Some of this stuff was so cheap it was almost disposable, for instance it would be cheaper to buy a new duvet rather than wash it.
I can't help thinking when you can get a new toaster or T shirt for £2 someone somewhere is being exploited. More than that everything becomes devalued - you have to strive harder and harder to have a real luxury. Think of cashmere for instance. It is the sort of thing you would have expected to save up and buy one precious skein to knit something fabulous. With cheap chinese imports though it is now common place, and we never know the real cost - to workers, the environment, the animals. As with everything you tend to get what you pay for one way or another and I am not sure the cheaper cashmere is as good a quality as the more expensive stuff.
A year or so ago I bought a skein of Cashmere/Silk (50/50) laceweight from Posh as a special, special treat, I have done nothing but fondle it since as it seemed too precious to commit to a project. At Wonderwool I scored some Baby Alpaca/Silk/Cashmere (70/20/10) and the cashmere is Mongolian which isn't ideal but better than Chinese. It is even softer. Maybe this is to do with improved processing or maybe because it hasn't been dyed yet we shall see.
Well sorry if I havbeen drifting a bit there. in the next post I have a few animal stories and photos (unbelievably cute). Before signng off though I must show you the lovely birthday present I got from
Tutley Mutley
.


Lovely Louisa Harding Angora, which I think may become a hat or fingerless mittens, Kendal Mint cake, the cutest ever candles, an Interweave magnetic poetry kit (knitting theme of course) and a really, really good book. Lots of small doable projects. Thanks so much Tut!