Au Jardin des Laines
So Eunny Jang is to be the new editor of Interweave Knits. I can't wait to see how this impacts on a magazine that is already superb. Eunny is just the most amazing knitter, designer and blogger. I will definitely be renewing my sub.
When I took part in Spin me a Treasure my spoilee was Charlotte. As you will see from her blog she has an online shop,
Au Jardin des Laines
, selling very yummy yarns at incredible prices. I couldn't make up my mind what to buy so ordered a few balls to check out what the quality was like.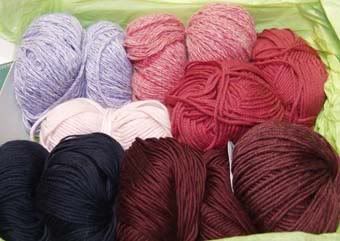 The top row is 2 balls (pelotes) of
Angora Tweed in Strawberry
and 2 in Violet this is about an aran weight in wool/angora and polyamide (50%/30%/20%) lovely and soft and so light (25g/74m) this was on offer at 1.73 euros a ball (about £1.30).

The middle 3 (light pink (which Charlotte gifted) and
2 raspberry
) are my favorites. The balls are 25g and 58m of wool/cashmere (85%/15%) and so squishy soft and silky. I am making a pair of
Fetching
at the moment and seriously considering this yarn for
Eris
.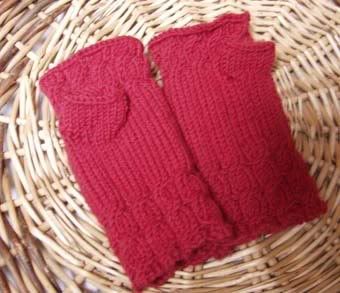 This is an incredible 1.55 euro for a ball (not much more than £1)!
In the extreme bottom right is a ball of
wool and silk
(60%/40%). 115m to 50g for 2.50 euros.
For ultimate luxury though you can't beat the remaining 4 balls (2 each in ebony and purple) of
cashmere and silk
(70%/30%). 50g (no length given) for 3.95 euros (about £2.75). I don't quite know what to make with this it is so gorgeous but wonder if it might not make deliciously silky socks.
I can thoroughly recommend this shop, it will certainly be a favorite of mine. It is at present only in French but quite easy to follow. I initially had problems with the online ordering (it told me everything was out of stock) but I emailed and we sorted it out easily. Charlotte says her English is not very good but it is better than my French! Vas voir. Check it out.