Je suis bloggeuse
Last saturday I joined a trip to Creations et Savoir-Faire in Paris. It was a long day by coach from the pick up at 6am in the pouring rain to getting home after midnight.

But... it was my first time in Paris and I saw the Eiffel Tower (albeit throught the windows of Paris Expo).




See it there on the horizon centre right?

The expo was nowhere near as big as Ally Pally but plenty to see in one day. There were various sections (including creative cooking!) the largest being needlework which included knitting but probably patchwork was the largest contingent. This was ok as I am just getting into patchwork and just love seeing those rows and rows of gorgeous fat quarters. Mouth watering.

There was a lovely little corner stall, The Cinnamon Patch, with feltwork in beautiful colours, unlike felt colours I have seen before.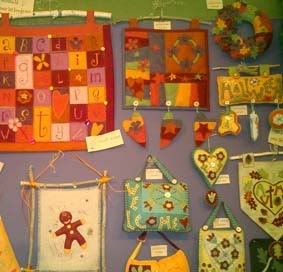 The exhibitors turned out to be Irish so we were able to ask lots of questions and Sharon even prevailed upon Marianne to show her how to do blanket and feather stitches.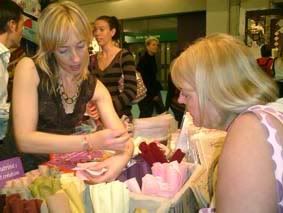 Alot of the items were featured in a book for sale which Sharon bought.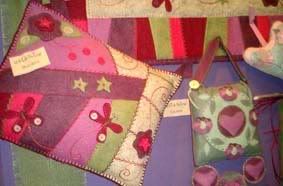 We later realised that Marianne had written it so we had to go back and get it signed of course. It is a lovely book if you want to try feltwork and pretty understandable even if you don't speak French.

So what did I buy? I blew my entire budget on a Tricotin Geant (a large tubular knitting gadget). It knits circular 22 stitches or straight 19 stitches. This is ideal for me as I am doing alot of Christmas Fairs this year and could do with some cheapish items to sell. So I hope to be able to show you piles of tubular fingerless gloves soon.




There was even a bloggers corner.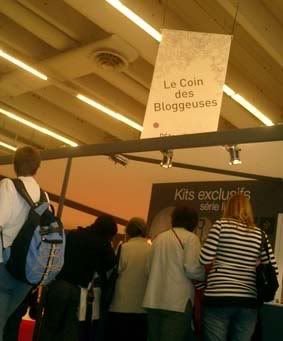 But I didn't see anyone there so we just plonked ourselves down and had lunch. This happened to be right next to where they were periodically giving away free Martinis, so although I am teetotal I was popular with those who wanted a second helping!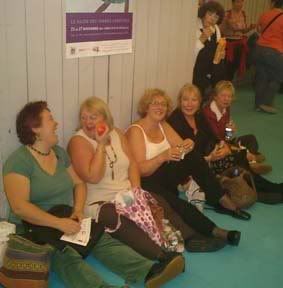 I hope to show a picture of my stall soon as I am doing a Christmas Market on Sunday. I sell mostly Colintte yarn and some Opal and SWTC. However my biggest seller (shame to say) is novelty yarns that I buy in ad hoc and ply together to make chunky fun yarn that can knit up into a scarf in under an hour (Sharon can do one in 40 min). It may not be what I would chose to knit for myself and although the profit is small it supports my yarn habit. Incidentally I noticed that Colinette mohair (which was exclusively on sale at Elle Tricot) was selling for 17 euros a skein ($22.40 or £11.50)! This made me feel better as I sell it for 9.50 euros a skein.