Merry Christmas Everyone
I seem not to have blogged for a while! I have been busy knitting but neglected to photo stuff that has already gone. I did finish the Fabel Socks however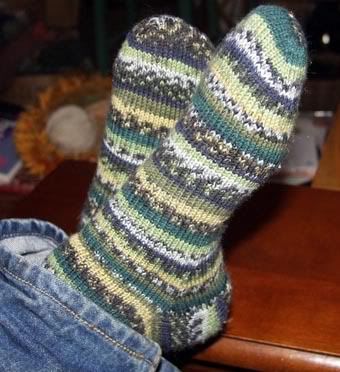 and have started another pair in 6ply Fortissima Socki in a lovely autumnal colourway.
Needless to say IT got the better of me but I am old enough now to know when to give in to the inevitable. So Christmas knitting was put aside for the weekend as I was hosting the Spinning Group on Sunday and needed to tidy up. (Believe me Emma you WILL get your Gryffindor sweater!) It was really fun getting 11 people and 5 spinning wheels into the yurt!
We had a Secret Santa too with lots of fibrey presents.
But the gift that caused the most envy was a little sheep that pooed M and M's!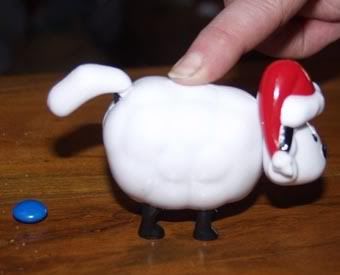 I have been updating my Etsy shop lately and still have alot of Opal 6ply to put on this week at a really good price ($11 for a 150g ball), but I like to spend the week between Christmas and New Year to tidy up loose ends and think about what I want to achieve in the next year. I have duly sorted out all my UFO's and I have (gulp) 25. So I want to see how many I can shift before 2008. Serendipitously I came across the Knit Warriors group on Ravelry. Check it out at on
Lime and Violets blog.
It should encourage me to get organised knitting wise.