Why stick with one colour if you can have them all?
I had hoped to have loads of pix for this post but despite a warm muggy day, the light never seemed quite right so I will try again tomorrow.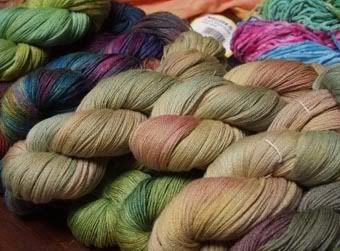 I have been doing a lot of dyeing lately and really need to update my Etsy shop and/or creat a website. There is laceweight alpaca/silk/cashmere in subtle browns and greens and sock yarn in deep sludgy colours or irridescent oil slick colours. I have been making felt and dyeing it and even dyeing the feathers off the duck when we clipped its wing.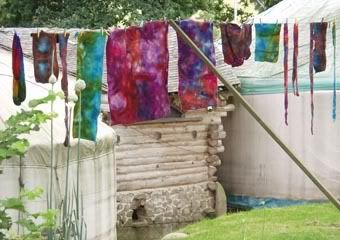 I have also finished my Noro mittens, the June ones for the
Ravelry Mitten a Month
Group.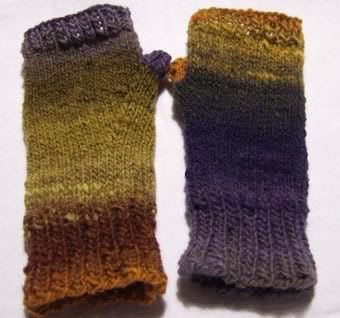 and joined
Sylvie's Fibre Swap
on Ravelry too. I created a mosaic for my swap partners to get an idea of the things I like.




A while back I ordered lots of worsted weight wool/silk dyed in fabulous colours from Mystic Creation Yarns.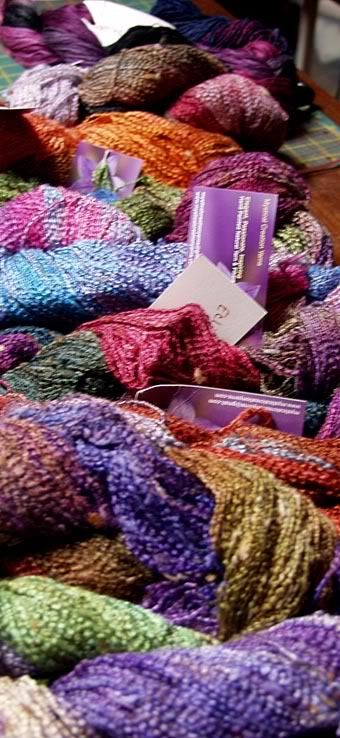 However having read the experiences of lots of disappointed people on Ravelry who said the colours were not fixed properly; I thought it best to fix it before using. It was just as well I did as the colour ran and ran. I soaked the skeins in vinegar water for a couple of days then microwaved each skein twice and after cooling washed and softened them. The colours are much faded but at least it wont run now when I use it. It is also nowhere near worsted weight only just a DK I would say.




Finally with the days of glorious weather we have been enjoying the garden.




Powered by GoodWidgets.com